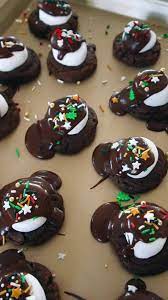 Christmas Cookbook- Recipe 1- Hot Chocolate Cookies
For this year a special treat that everyone needs to snack on is Hot Chocolate Cookies! These are amazing cookies that have recently been created by Nicole Renard, a wonderful chef. Its such a cozy snack to have during this time of this year, so here is the ingredients and procedure, enjoy! 
Hot Chocolate Cookies Ingredients
Chocolate Mixture – 
2 tablespoons butter
½ cup chocolate chips 
Flour Mixture – 
  ½ cup flour 
  2 tablespoons cocoa powder 
  ½ teaspoon baking powder 
  Dash of salt 
Final Mixture – 
  ½ cup brown sugar
  1 egg 
  ½ teaspoon vanilla 
Ganache – 
½ stick of butter; melted 
¼ cup of cocoa powder 
¼ cup of hot water 
Splash of vanilla 
2 cups of powdered sugar 
Procedure
The first mixture you make is your "Chocolate Mixture" using the ingredients above. Once adding those you melt them completely separately. 
Second Mixture you make is your "Flour Mixture". You add all the ingredients above listed for "Flour Mixture" in a separate bowl and then whisk together, then set it aside. 
The Final Mixture mixture you make is another separate bowl with the ingredients listed. You mix this bowl separately as well. 
Then you add both the "Chocolate Mix" and "Flour Mix" into the Final Mixture bowl and mix it together. Then you put tinfoil on top of the bowl and let it chill for 1 hour.
Then onto a greased pan scoop 1 tablespoon balls of the chilled cookie dough and flatten it with your hands. Then bake for 8 minutes at 325 degrees Fahrenheit. 
For decorations cut marshmallows in half after baking and put them on top of the cookies, bake them for another 2 minutes. After the second bake add all the ganache ingredients into a separate small bowl and whisk together thoroughly. Then add on and it's done!
Credit
This specific recipe for Hot Chocolate Cookies was made by Nicole Renard an influencer on numerous social media accounts. You can find her tik-tok @nicole_thenomad and her instagram at @nicole_thenomad. You can find numerous recipes on her accounts like this.
Donate to The Charles Street Times