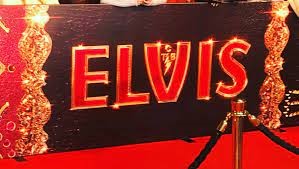 Elvis
On June 24, 2022, the impeccable movie, Elvis, was released and people were raving about it for months.
Elvis is a musical/drama about exactly what it sounds like, the life and success of the Elvis Presley. The movie is narrated by Colonel Tom Parker, Presley's manager, and he goes on to tell the story of Elvis growing up in Tupelo, Mississippi. Eventually, we enter the part of Elvis' life when he was introduced to the music industry. As well as all of the ups and downs in his career, and relationships.
The colors and clear picture in this movie is something you have never seen before. Film techniques and the movie's "Vegas feel" truly had people hooked. Not only were older individuals reminded of their love for Elvis, but younger viewers were able to understand the appeal. Every social media platform had advertisements and promotions about this Oscar-nominated film. Even fan-edits created by those all around the world.
Not only did the movie receive a lot of attention and popularity, but so did actor Austin Butler who played the role of Presley. His dedication to this role was something rare, and he would spend hours upon hours studying Elvis' voice and movements. All of his hard work paid off, as he is now an Oscar nominee for the award "Best Performance by an Actor in a Leading Role", and receiving many other awards for just this singular movie.
Clearly, it has been proven how much of an impact this movie has had on the public. It is important to remember that even those who passed away can still make impacts today and have their legacies continued. This is exactly why Elvis was the best movie of 2022.
Donate to The Charles Street Times