60th Annual Grammy Awards
Hang on for a minute...we're trying to find some more stories you might like.
Did you miss the 60th Annual Grammy Awards? Did you not watch them all the way through? Or are you just curious. Below are some of the night's moments that stood out or made the most headlines. This years Grammys were held in New York after 15 years and hosted by James Corden for the second year in a row.
Bruno Mars
Bruno performed his recently released remix of "Finesse" along with Cardi, both in a head-to-toe colorful attire. The performance was marked by 90's influence and a whole lot of energy. As to be expected, Bruno also came out with some very good dance moves and to the crowd's surprise Cardi B sang a bit of her song "Bartier Cardi". Outside this energetic performance Bruno went home has the biggest winner of the night, winning a total of six Grammys for Album of the Year("24k Magic"), Song of the Year("That's What I Like"), Record of the Year("24k Magic"), Best R&B Song("That's What I Like"), Best R&B Album("24k Magic"), and Best R&B Performance("That's What I Like"). In his short speeches he thanks his fans, longtime girlfriend Jessica Caban, production team, band, and those who inspired him. He later tweeted "Unreal!! I love you all!!!" and a couple days later also put on his Instagram: "Still on cloud 100! This s*** right here was so fun!!! Thank you everyone in attendance and at home for dancing with us…."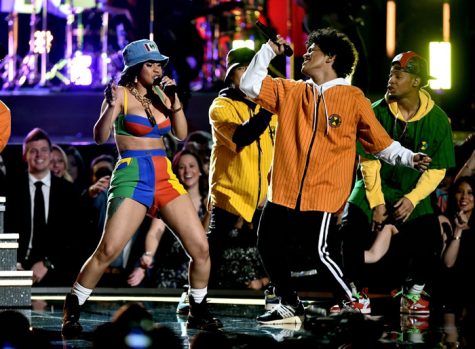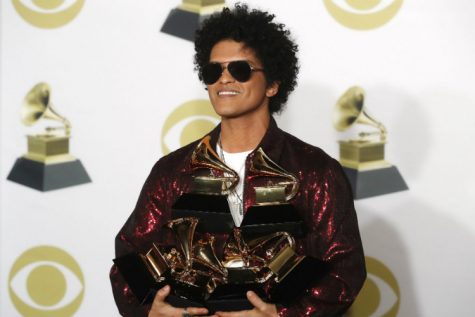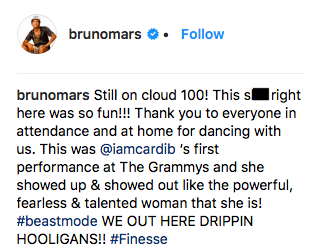 Time's Up!
Multiple Grammy guests showed up with white roses to honor the Time's up initiative. "An initiative that promises to not only shake up decades of sexual harassment, pay disparity and discrimination in Hollywood, but also help women in all fields who are struggling with the same problems"(Times,2018). Stars like Lady Gaga, Ne-Yo, Sam Smith, the Chainsmokers, Alessia Cara, Miley Cyrus, Cardi B, among others wore a white rose. "We come in peace, but we mean business. And to those who would dare try to silence us, we offer two words: 'Time's up.' We say 'Time's up' for pay inequality; time's up for discrimination; time's up for harassment of any kind." are just some of the words Janelle Monae stated in support of the movement and before introducing Kesha. Kesha hit the stage performing her song "Prayer" with various famous female vocalists all dressed in white in support of the movement. The ladies gave an amazing and goosebump-inducing performance that really put a spotlight on the movement.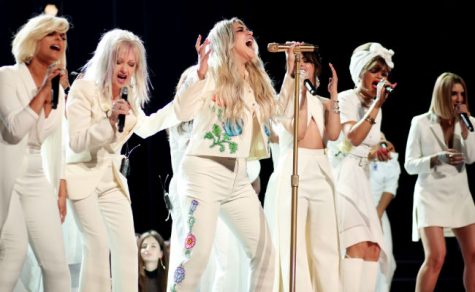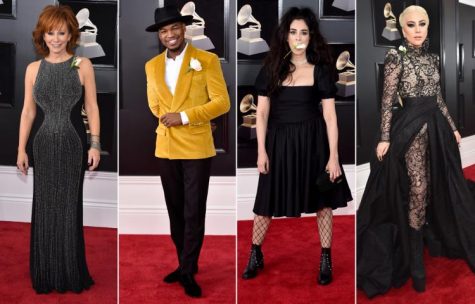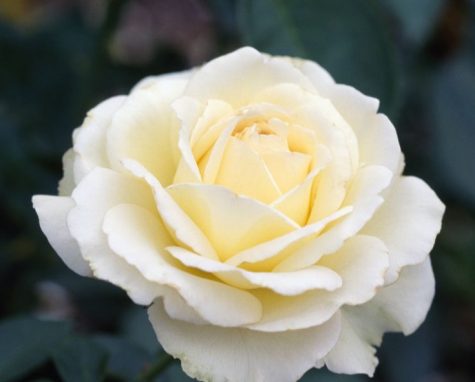 Kendrick Lamar
Kendrick Lamar was another big winner of the night taking home four Grammys for Best Rap Performance ("Humble"), Best Rap/Sung Performance("Loyalty"), Best Music Video ("Humble"), and Best Rap Album ("Damn").  In his short speeches he thanks, God, rap music, fans, and his crew. Kendrick opened the show with a medley of songs from his album "Damn"  that featured U2 and commentary by Dave Chapelle. Dave Chappelle commented things like "Rumble young man, rumble" between Kendrick's rapping.  This performance quite stunning and powerful way to kick off the Grammys.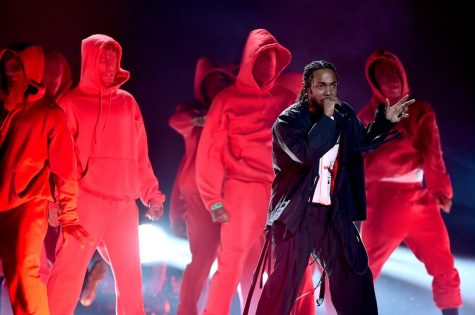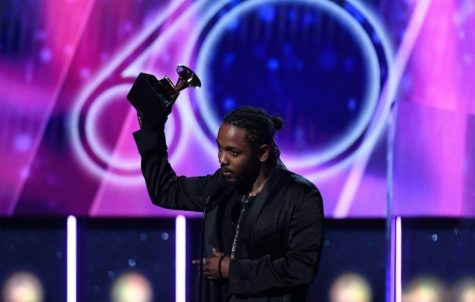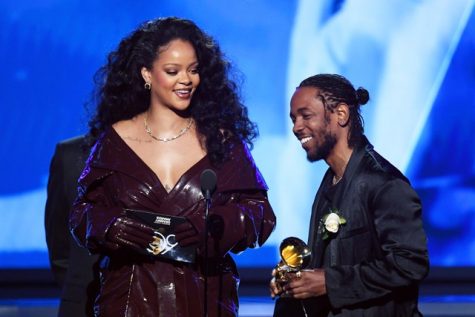 DJ Khaled
DJ Khaled made his Grammy debut by performing "Wild Thoughts" along with Rihanna and Bryson Tiller. "I worked my whole life for this. They said I would never perform at the Grammys. They played themselves." exclaimed DJ Khaled during the song's intro.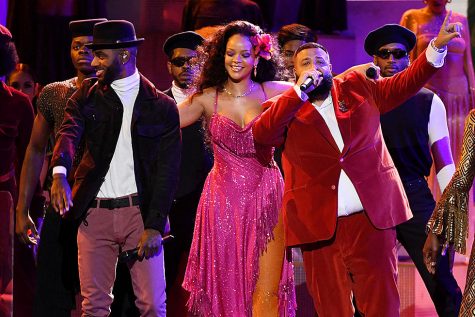 A read from 'Fire and Fury' and a surprise guest
Host James Corden introduced a pre-recorded video montage of mock auditions to voice the Fire and Fury audiobook. The book is basically a collection of inside stories about Donald Trump's presidency and has caused controversy as to what content is true or not. In the video, Cardi B, John Legend, Cher, and Snoop Dogg narrate passages from the book and some reacted to them. Towards the end of the video surprise narrator, Hillary Clinton makes an appearance. Her appearance caused some political controversy but also for various funny comments on the skit.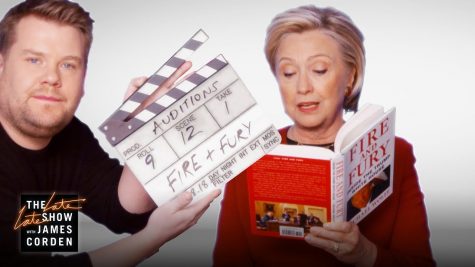 Logic's impacting performance
Logic performed his song "1-800-273-8255" along with Alessia Cara and Khalid. Their performance was great but what made the most impact was Logic's words at the end of the performance. He later tweeted about it stating "Thank you Grammys." along with a picture of those words to paper.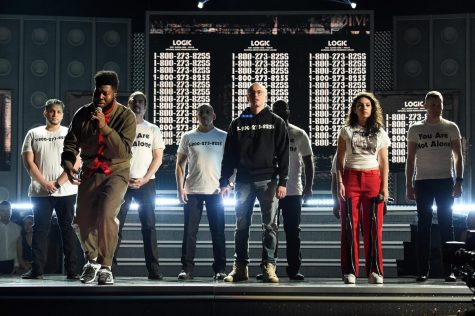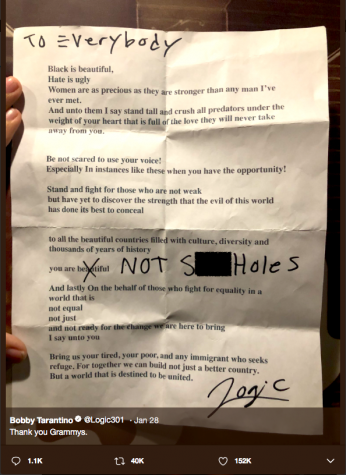 Tribute to the lost victims of Las Vegas shooting
The Eric Church, Brothers Osborne, and Maren Morris performed at the Las Vegas music festival. A festival that turned into a deadly mass shooting, taking the lives of fifty-eight people. At the Grammys, the artists sang a cover of "Tears in Heaven" by Eric Clapton as the names of these fifty-eight victims were displayed. Before starting their performance T.J. Osborne stated:  "On Oct. 1, all of country music was reminded in the most tragic way, the connection we share with our fans, and the healing power music will always provide." This moving and emotional performance served to pay tribute to the victims of this tragic day.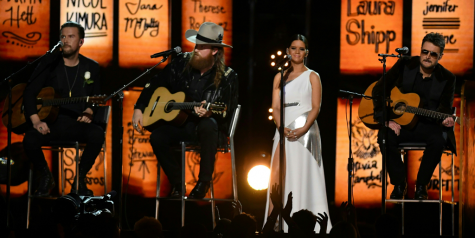 Camila Cabello's words
Before introducing U2's performance next to the Statue of Liberty Camilla Cabello had some words to say. She had a message for the dreamers of this country. Dreamers are those protected under DACA, a federal program that allows "people brought to the US illegally as children the temporary right to live, study and work in America"(TheGuardian, 2017). News and the critical state of this program had brought much political tension and a general sense of worry. Camilla took the time she had to say the following: "Today, in this room full of music's dreamers, we remember that this country was built by dreamers, for dreamers, chasing the American dream, I'm here on this stage tonight because, just like the dreamers, my parents brought me to this country with nothing in their pockets but hope. They showed me what it means to work twice as hard and never give up. And honestly no part of my journey is any different from theirs. 'I'm a proud Cuban-Mexican immigrant, born in Eastern Havana, standing in front of you on the Grammy stage in New York City, and all I know is, just like dreams, these kids can't be forgotten and are worth fighting for." These powerful words were received with a strong applause and marked yet another powerful moment of the night.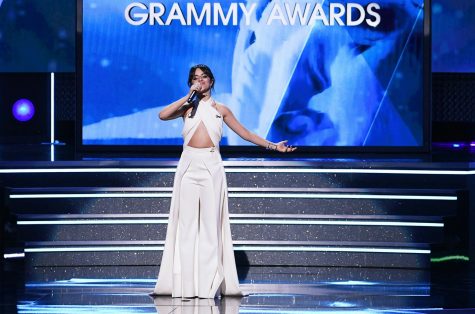 Blue Ivy
Blue Ivy is the daughter of Jay-Z and Beyonce. At night of the Grammys Blue Ivy had various ways to demonstrate she was not 'impressed' by the performances. After Camila Cabello's speech, her parents made sure to clap but, Blue ivy signaled them to 'simmer down'. This moment of sass was something the internet definitely talked about.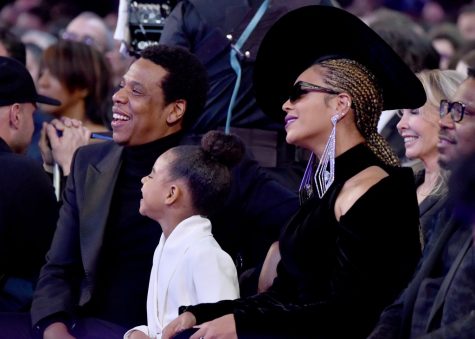 Were there any moments I missed? What was your favorite part of the Grammys? What did you not like? Comment below. Speak your mind!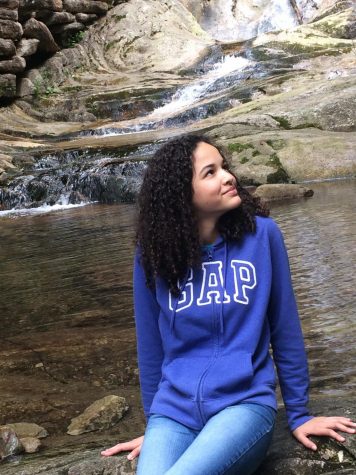 Nathalia Rodriguez, Staff Writer
Nathalia Rodriguez is an LHS sophomore and a new member to the Charles Street Times. She enjoys crafting, music, and science. She is looking to write articles...