Stan Lee's Legacy Will be Long Remembered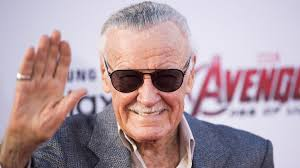 Hang on for a minute...we're trying to find some more stories you might like.
On Monday, November 12, 2018, Stan Lee died. He had been battling pneumonia. In early February, he was rushed to the hospital for shortness of breath and an irregular heartbeat.It was reported that ambulances rushed to Lee's Hollywood Hills home early Monday morning, and he was taken to Cedars Sinai Medical Center where he later died.
Lee's daughter, Joan Celia, was the first to confirm he passed away to TMZ.  According to an article on Observer.com, it was reported that before Lee died, he was "doing well and feeling good. He is staying [in the hospital] for a few days for some check-ups as a safety precaution."  Sadly the good news didn't last very long.
Stan Lee was an exceptional person and created so many amazing characters and worlds for others to escape to when they were fighting their own mortal enemies.  Lee was born in New York City on December 28th, 1922. He worked for a company that would become Marvel Comics.  Working with artist Jack Kirby in 1961, he created the characters known as the  "fantastic four": Spiderman, X-Men, The Hulk and Thor. Lee was known for giving his characters realism, and making them deal with real-world problems like different opinions from others or drug use.  These attributes would influence comics forever. Marvel Comics  became a highly popular franchise, and Stan Lee was promoted to editorial director and publisher in 1972. He later moved to the West Coast to be involved in Marvel's film ventures and eventually became chairman emeritus.
Lee started the company POW! Entertainment in 2001 and the following year published his autobiography, Excelsior! The Amazing Life of Stan Lee. Lee's amazing work has won awards such as, National Medal of Arts, Saturn Awards, Scream Awards, Hollywood Walk of Fame, Producers Guild of America, Visual Effects Society Awards.  He received a Medal of Arts honor from President George W. Bush and launched the History Channel show Stan Lee's Superhumans, a series that looked at people with remarkable skills and abilities.  The year 2012 saw more new ventures. Lee co-wrote a graphic novel, Romeo and Juliet: The War, which landed on The New York Times' best-seller list and launched a YouTube channel, Stan Lee's World of Heroes, which features comic, comedy, and sci-fi content.
News Channel 8 (www.wfla.com) reported fans' reactions to his death. "It's like losing like a super cool Uncle.  I mean, guys always been there for you, whenever, you know, kind of down or low, you pick up a book and makes you happy" said Anthony Thompson who has 80,000 in his collection and has seen his movies several times. His genius is considered a great loss.   "He is kind of the William Shakespeare of our time in a way so, there's nothing that he hasn't at least influenced that's in the store" said Emerald City Marketing Director, Darryl Blaker.  "As long as there are comics and people with flaws . He's going to definitely be a part of our lives" said Blaker.
He will truly be missed and the world has lost their own superhero but as from the legend himself: "Life is never completely without it's changes."