Students 'Sea' Stonybrook Scientist's Routine
From sorting through grime to dragging up nets and using scientific instruments, this field trip was not just a normal day for students at Lindenhurst High.
On October 29th, the Marine Biology classes took a trip to Stonybrook's Marine Biology facility in Southampton to learn more about the local marine life, the problems that both researchers and the marine life faces, and the routine studies that staff conduct at this facility.
The students went out onto Shinnecock Bay in the R/V Peconic, one of the boats docked at the School of Marine and Atmospheric Sciences. Once out there, students were first taught about the routine procedures that happen everyday, testing the oxygen levels in the water, dredging up samples of the seafloor, and testing the visibility using an instrument called a secchi disk. They learned about the impact humans have on the water there in the bay, from septic tank water seeping into the ground, to the development of houses along the shore causing pollution. Things such as these had an affect on the results, as did natural happenings, such as the tide, or the seasons.
After the tests, the students were taken further out into the bay to get an up close look of what was both swimming and growing beneath the boat. They all worked together with pulling ropes to drag a large net up onto the deck. Once the net was emptied out into the tray, students sorted through the seaweed and sludge to find some remarkable things. Pipefish, juvenile blackfish, tropical butterfly angelfish, shrimp, and a green crab were all brought to a touch tank on a fish, where those aboard were taught about how these animals interacted with the environment. Once the boat docked again, these fish were brought back to Mr. Cozstanzo's classroom for students to raise among the fish caught on their prior field trip to Venetian Shores. 
All in all, the experience was an incredibly educational one, as students learned about the local ecosystem, how humans affect it, and how scientists go about making sure that the water is safe for everyone.
About the Contributor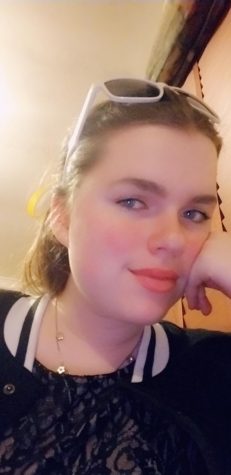 Taryn Zdenek, Staff Writer
Taryn Zdenek is a senior at Lindenhurst High School. This is her first year writing for the Charles Street Times. She enjoys writing, listening to music,...