Will the Cubs be Sellers at the Trade Deadline?
Baseball fans have gotten accustomed to a number of things over the years. It could be one team dominating their division, dominating the whole league, or even one team just being notoriously bad. For the longest time, one team that was notoriously bad was the Chicago Cubs. The Cubs went through so many stretches where the team was historically bad and it looked like the team would never be good again. They did also have years where the team made deep playoff runs, but couldn't finish it off. As all fans know, the Cubs recently snapped a record 108 year championship drought with their World Series win back in 2016 against the Cleveland Indians, coming back from a 3-1 series deficit to win. The trajectory has drastically changed however, as they may be looking to retool their farm system and ship off their stars elsewhere.
What happened to the 2016 team?
Photo via SB Nation
Back when the Cubs looked like they were a future dynasty, their lineup was young and loaded, and the pitching was almost unfair. Headlined by 2015 NL Cy Young Award winner, Jake Arrieta, Jon Lester, and perhaps the biggest blockbuster acquisition at the trade deadline, perennial closer Aroldis Chapman, these stars were a key component of a 103-58 record and the best record in the National League. After defeating the San Francisco Giants in four games in the NLDS, they defeated the Los Angeles Dodgers in six games in the NLCS to reach the franchise's first World Series since 1945.
They gave up a lot to get Chapman from the Yankees, including the now shortstop for New York, Gleyber Torres. It wasn't all bad for this trade however, since Chapman was almost unhittable for those two months and he brought the team their first title since 1908, it was all worth it. 
Bad Trades
Photo via CBS Sports
Overpaying on big trades has been a big part of why the Cubs need to rekindle their farm system though, with none being more obvious than the deal that brought Jose Quintana to the other side of town after a trade with the White Sox. The Cubs gave up their two top prospects in this deal, and considering that Quintana struggled mightily in Chicago and recently signed a one year contract with the Los Angeles Angels, it's safe to say that this trade set them back. 
Kris Bryant
Photo via Sports Illustrated
As for their current players, they could see a number of them shipped off to contenders in need of key pieces, with none being more prevalent than MVP third baseman Kris Bryant. Bryant is in the middle of a major bounce back season, putting up MVP caliber numbers with a slash line of .312/.406/.604/1.009 and 25 extra base hits. 
His trade value has risen exponentially after a few injury riddled seasons where it looked like the Cubs were almost certainly going to trade him. Now that the team is struggling and his value rises by the day, this might be the time for the team to jump on that opportunity. Along with his elite offensive production, he is also able to play solid defense all over the field at any of the outfield sports, third base, and occasionally first base. 
Javier Baez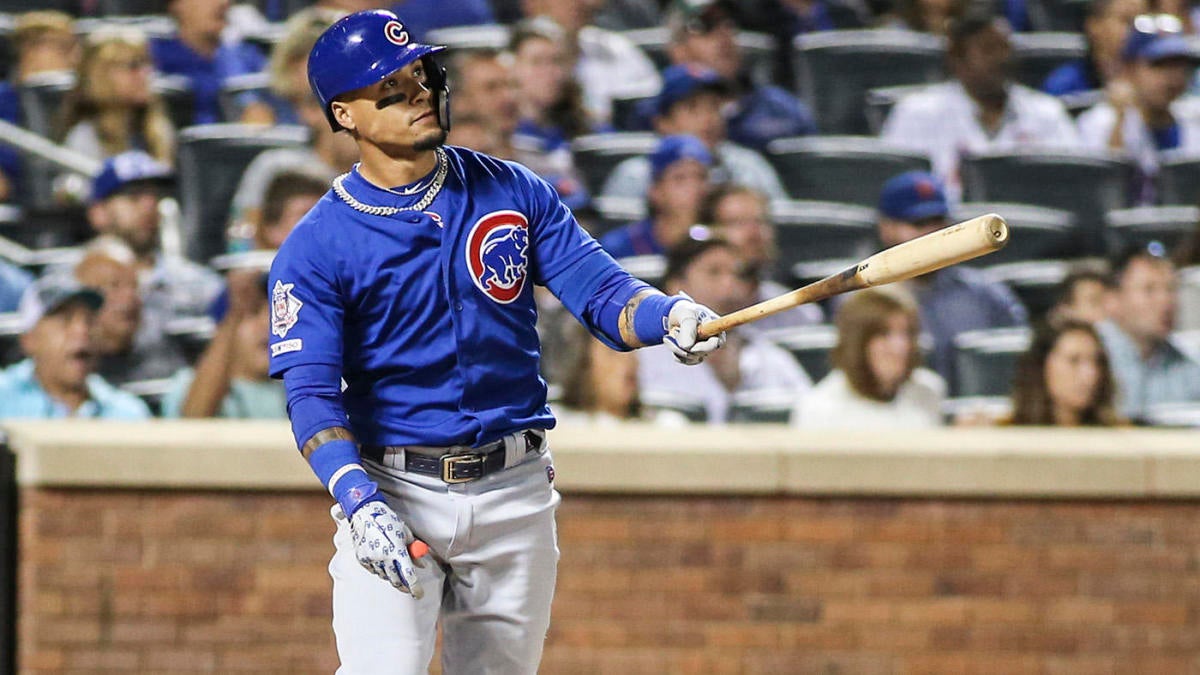 Photo via CBS Sports
Shortstop Javier Baez could also see his name in rumors in the coming months. Baez has not gotten off to the same great start as Bryant, but there will certainly be a number of teams to call the Cubs about the 28 year old. The offensive numbers may not be there right now, with a slashline of .255/.293/.510/.802, however some teams will most definitely be interested in his Gold Glove caliber defense and his power potential. His lack of plate discipline has always been his source of inconsistency at the plate, evident by his career high of walks in 2017 with a minimal 30 walks. If he could regain his 2017 form however, which resulted in a second place MVP vote, he could end up being one of the biggest moves at the deadline if he ends up getting moved.
Willson Contreras
Photo via Bleacher Nation
Power hitting catcher, Willson Contreras, could also be on the move at some point this season. With the few elite catchers in the league today, teams would certainly love to add a player like Contreras to their lineup, who brings great power potential and solid defense behind the plate. 
He boasts an average 89.6 exit velocity with a 42.4% hard hit rate, which for a catcher is very impressive. On the defensive side, he possesses maybe the strongest arm of any catcher in the league with a career 31% caught stealing rate. He could be a key addition to a team in need of a catcher, and especially at only 29 years old, he would be a major addition for a team looking to add a top tier backstop.
Craig Kimbrel
Photo via Cubbies Crib
Another piece that could hear his name in rumors come time for the deadline is closer Craig Kimbrel. He has seen a huge revitalization of his career, coming off a few rough seasons, now posting a 0.95 ERA with 32 strikeouts in 19 innings. It seems that he has regained his dominant form back from his time with the Braves, even though his command of the strike zone has slipped a little, posting a 3.8 BB/9. 
Aside from the walks, he has been almost unhittable closing out games for the Cubs. A number of teams could be interested in Kimbrel come trade season, with contenders looking to add another power arm to their bullpen to finish games or be a great middle reliever to maintain a lead for the closer.
Will they sell at the deadline?
Chicago might not end up being sellers at the trade deadline if they continue their recent success, but if they ultimately decide to blow it up, they have plenty of pieces that are of major interest. If you said in 2016 that these players would be traded to retool the farm system, most fans wouldn't believe that. After their World Series win, it looked like the Cubs were at the start of a dynasty with multiple championships and running the National League. Things have not worked out as they planned, and they might have to move their franchise cornerstones and fan favorites. The faithful fans of Chicago finally thought they had a long lasting winner, but that time is not now and hopefully in the near future.