Recycling, But With Clothing?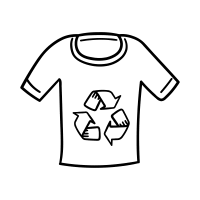 Have you ever felt like you had too much stuff? Maybe you want to get rid of clothes that no longer fit you or toys from your childhood taking up space in your room? You can go to Salvation Army or Goodwill donation sites and drop your stuff off, but you might want to give it to a place where it will go to good use fast. There are many platforms on social media. You can try to sell your stuff. One trend that is becoming more popular is swapping stuff with your neighbors and friends. There are "Freecycle" and "Buy Nothing" programs across the country.
Here in Lindenhurst, we have our own Facebook page run by three local residents: Stephannie Lennon, Dominique McGrath and Liz Richter. They run the Facebook page called "Lindy's Neighborhood Free Stuff Page! Helping Each Other, One Item @ a Time." It has more than 2,000 members. People post items they no longer need and offer them free to other Lindenhurst residents who can use them. The items range from home furnishings to clothing to toys and household items. If someone is interested in an item, they comment on the post and then private message with the person who is giving away the item to figure out how it will be picked up.
It is important for people to try to keep items out of the trash because they could end up filling landfills which add to pollution and environmental problems. According to the New York State Department of Environmental Conservation website, New Yorkers generate over 4.5 pounds of trash per person every day. There are 30 landfills in New York that take in about 6 million tons of waste per year, the DEC said. 
Lennon said she started the Lindy free page on April 6, 2018. "I wanted to help out our community and recycle items that others could still use, without contributing to the landfills, especially when most items still have so much life left in them," she said. She said her friends, McGrath and Richter, help monitor the page and add people who want to join the group. Lennon said that they wanted the group to stay local to Lindenhurst and help out their neighbors who may be struggling or just need items that other people are giving away. 
She said some people give away brand new items like clothing, baby toys and diapers. Sometimes the items are "gently used" like toddler beds, bikes and furniture. "Instead of going to the garbage, these things are now being used by multiple families and helping us recycle," Lennon said. "The most rewarding part of having the page is watching so many items being recycled and so many people being able to use those that would have just ended up in the trash."
She said sometimes people post perfectly good items on the page that they see someone has left out on the curb outside their homes in the trash. They could be cleaned and used by someone else. "It's great seeing so many wonderful people in our community help contribute to less waste for our community," Lennon said.