Miss USA 2021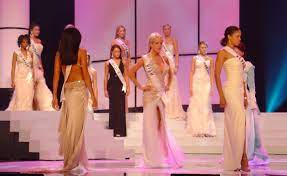 Miss USA is an American beauty pageant that has been a success since 1952. It is a globally-recognized  pageant that celebrates the unique beauty of women in all cultures . The Miss USA Organization  helps connect young women to recognize their own beauty, and activate their voice. Empowerment, confidence and influence are all key topics that the organization wants to spread across to women in America.
On Monday November 29th, the 70th Miss USA pageant was held at the Paradise Cove Theater of River Spirit Casino Resort in Tulsa, Oklahoma. Zuri Hall and Patrick Ta hosted the competition, including Nicole Adamo as the lounge host. 51 contestants were selected in state pageants beforehand and brought to Cancun for pre-pageant activities.
The activities were held between November 26th to November 29th, and they included: the Miss USA and Miss Teen USA Preliminary Competition, Miss Teen USA Finals, Parade of States (State Costume Presentation Show)  and finally, Miss USA Telecast in which Miss USA was crowned by Asya Danielle Branch of Mississippi (Miss USA 2020). 
The New Miss USA  is a local TV reporter, Elle Smith from Kentucky, and she was crowned alongside runner up Caitlyn Vogel from North Dakota, and 3rd place winner Ashely Carino from Florida.  Elle works as a multimedia journalist at Louisville ABC affiliate  WHAS11. Smith graduated from University of Kentucky with a B.A in broadcast journalism, and a minor in political science, which explains her intelligence and her way with words.  During the evening gown and swimsuit competitions, she drew a roar from the crowd as she presented her thoughts on how businesses can be more eco-friendly. Elle has always wanted to compete in pageants science high school, but stated that she needed to wait until she got a "big girl job" in order to afford it, therefore Miss Kentucky was her first Pageant. On NPR news Smith stated, "A Miss USA, her job is to connect with people" along with,  "She should be able to speak with a three-year-old, she should be able to speak with a 90-year-old veteran or the CEO of a business, and we do that every single day at work". 
As Miss USA (2021), Elle  is scheduled to head to Eilat, Israel to represent in the Miss Universe Pageant, which will be planned despite a contestant testing positive for Covid-19. So catch our Miss USA, Elle Smith  on Fox Tv at 7 p.m ET on December 12th!
https://www.npr.org/2021/11/30/1060088629/miss-usa-2021-elle-smith-kentucky