Oxford High School Tragedy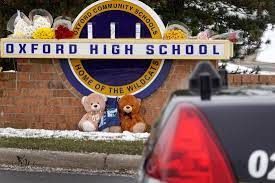 An unfortunate tragedy recently struck Oxford high school in Oxford Township Michigan. Tenth-grade student Ethan Crumble was the violent shooter in a horrible school shooting. 
Ethan was charged as an adult with two dozen charges, including murder. Due to his horrendous actions, four other students have now been pronounced deceased. The victims include 14-year-old Hana St. Juliana, 17-year-old Justin Shilling, 16-year-old Tate Myre, and 17-year-old Madisyn Baldwin. The students will forever be missed.
This unfortunate event took place on November 30th, 2021. The shooter himself was known to be bullied and that is said to be his excuse and or reason for his actions. It was also found that he had drawings and creations of his attempts to shoot up the school. His parents were found guilty of child endangerment and murder as well. The parents were at the school earlier that day to discuss Ethan's behavioral issues in the classroom. It was also said that his father had bought him the gun two days prior to the incident. After his parents left the school meeting they tried to flee the country, knowing they were guilty of leaving their son to fend for himself. Ethan's Instagram page, which is now blocked, was an automatic red flag. He had posted images of his weapon, shooting targets, and other disturbing images. 
There was also another very big red flag during the incident itself. One of the students in a classroom decided to make a video documentary on this tragic day. There was a time in the video where the shooter posed as a cop telling the students it was okay to come out of the classroom. They were all about to come out when suddenly the "cop" addressed the students as "bro". This automatically led the students to believe it was not a police officer, but the shooter himself. They then proceed to quickly escape out the window in complete panic. 
During the event, officials say that 30 shots were fired until they found the shooter. He caused panic, commotion, chaos, and great fear in not only the students but the teachers of Oxford high school as well. He may have only killed four and injured seven, but he gave trauma to all. 
Sources:
https://www.freep.com/story/news/local/michigan/oakland/2021/12/13/ethan-crumbley-jail-oxford-high-school-shooting/6497117001/
https://www.clickondetroit.com/news/local/2021/12/14/live-stream-parents-of-oxford-shooting-suspect-appear-for-probable-cause-hearing/
https://www.cnn.com/2021/12/01/us/michigan-oxford-high-school-shooting-victims-trnd/index.html