Return of the Mag? Hass boot Mazepin and bring back Magnussen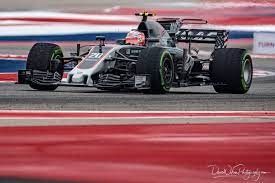 In a press release on March 9th, 2022, Haas F1 team announced that they would be bringing back former driver Kevin Magnussen to participate in the 2022 Formula One World Championship.  This comes after an announcement on Saturday March 5th, 2022, that the team would be terminating the contract of russian driver Nikita Mazepin.
Nikita Mazepin did participate in pre-season testing in Barcelona, Spain at the Circuit de Catalunya-Barcelona. He completed his rookie campaign last year with Haas where he would be beaten by his teammate Mick Schumacher, who also had completed his rookie campaign. Both drivers would not score points last year for the team and overall Haas would finish in the bottom of the standings with a car that struggled to compete. With the ongoing conflict in Ukraine, Haas quickly pulled sponsorship from Urkali Oil company, the owner of which is Demiti Mazepi.  Nikita's father and he was well known for his friendship with Vladimir Putin. In an instagram post, Nikita said that he was shocked to find out he would be terminated and felt that the team did not back him up in any way.
To fill the seat, F1 brought back the Danish driver, Kevin Magnussen. Magnussen joined the Formula One grid in 2014 where he would get his only podium to date in his debut at the Australian Grand Prix. He would stay at Mclaren through till 2016 where he would make the jump over to the Renault F1 team. After just one season, he then moved to Haas where he would partner with Romain Grosjean from 2017 until his departure from the sport at the end of the 2020 season. In 2021, he would move over to the United States where he would race in the IMSA Weathertech Sportscar Series and the NTT Data Indycar Series.
So far it has been announced that Magnussen will only be there for this season, but if he performs well it could mean a extension down the line. Haas looks to fight more into the midfield this year and look to score points again.