An Interview with NHS President Hopeful: Lauren Walker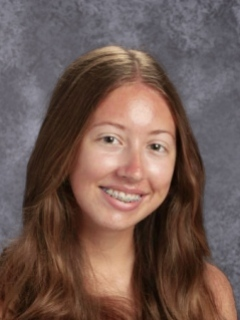 "I want members to feel that they can come to me with any problems they encounter during their involvement in this club"
National Honors Society elections are less than a week away, and with the excitement of candle-lit inductions and desert bar receptions comes one other (slightly more stressful) impending event: board elections for the 2022-2023 class. Throughout the year, probates have worked hard to maintain not only their grade point average, but their involvement in school activities and other community service related events in order to reach the end all be all title of inductee. That star-covered, glistening gold acceptance letter brings a sigh of relief for most; others take a sharp intake of nervous breath- who will get to add a National Honors Society Board position to their college application? And who will get to add the President?
I sat down with Honors Society President Nominee Lauren Walker to chat about the upcoming election, her qualifications, and what would make her a good candidate for leader of this exclusive and prestigious organization.
How would you describe yourself in three words?
Three words that I feel accurately describe me are calm, dedicated, and ambitious. I feel that I approach problems in a collected and peaceful manner, which helps me maintain a positive attitude in stressful situations. I love to soften the mood by making jokes, which inevitably makes me that person that laughs at all the wrong times. I've shown my dedication to extracurriculars by being a member of the marching band for five years (and drum major for two). I've also been a member of the student council and model UN since freshman year, and have picked up many other clubs since. I have continued to challenge myself through my academics, and plan to carry that trait through college and beyond. 
What makes you think you would be a good president of the National Honors Society?
I think the thing that would make me stand out as a president of the NHS is that I would make this club a serious priority. This is the only club I plan to be president of, so I will not be overwhelmed with different responsibilities from other clubs that would hinder my performance and service to this one. 
What inspires you?
I find most of my inspiration in classical music, specifically pieces for the clarinet. My NYSSMA piece this year made me feel like in order to do it justice I had to put effort into not just my music goals, but my academic and personal goals as well. I feel a very close connection with music and it gives me motivation to try new things and reminds me to do things that make me happy!
Finally, without giving too much away, what can we expect you to focus on in your speech before the elections?
In my speech, I plan to distinguish myself from my opponents so that my audience will remember and be impressed by me. I want the NHS to feel like they are in good hands if I was their president. I plan to make the ISP, general points, and fundraising points process go smoother as I have heard the most complaints about that. I want members to feel that they can come to me with any problems they encounter during their involvement in this club, and not get the impression that I am above them or the rules.