Typhoon Noru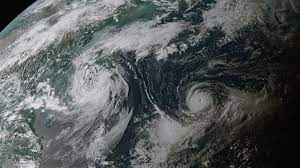 Typhoon Noru is passing through the Philippines after killing over 5 people. Super Typhoon Noru is also known as Typhoon Karding. This typhoon is extremely powerful and it is one of the strongest ones yet. It has caused extensive damage to many countries, becoming a super typhoon in just 6 hours of starting its path.
One of the countries that have been hit badly is the Philippines. The Philippines sees around 20 tropical storms a year. As typhoon Noru's path finishes passing through the Philippines, it will go to Thailand and southern part of Asia, hitting many countries along the way.
Typhoon Noru caused thousands of dollars of damage, ruining things people have earned, but mostly ruining precious family heirlooms and memories. The typhoon has also caused massive amounts of rainfall, resulting in huge floods, and rise in the ocean.  It also produced strong and chaotic winds, causing most of the destruction along with the flooding. People in the Philippines and in Vietnam are struggling to cope with the typhoon. 
The typhoon is now heading west to Thailand, giving residents time to prepare. Although many can leave the country, they don't know what country is going to hit next in its path as well it could change its direction after Thailand. Mostly coming back to their country being in panic after having a huge storm attacking and destroying.