DeGrom Leaves NY for Texas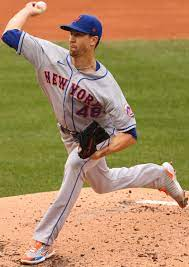 Jacob Degrom is a very interesting person to talk about, especially right after the biggest signing of the offseason happened. DeGrom signed a contract for 5 years 185 million to go to Texas. This is tragic for Mets fans, but this indicates that Texas was just more competitive then the Mets were in the battle to sign him. It seems that it all came down to money and preference of the city he wanted to play in. It was clear Degrom didn't like the environment of New York, everyone just didn't want to believe it.
Baseball is also a business; Degrom went where the money took him, and that happened to be Texas. Luckily, a couple days later, the Mets signed this year's Cy young award winner Justin Verlander to a 2 year, 85 million dollar deal. Even though he is on the older side, he should be a nice replacement for Degrom. Degrom has been getting a lot of bad response from Mets fans calling him a traitor. Anyone could say he is a traitor, but you can also look at the bright side and be happy that you don't have to pay millions for a pitcher who hasn't played a full season in years.
The manager of the Texas Rangers, Bruce Bochy, has been reported saying how Degrom is happy to be involved in the winning culture of Texas. It has also been assumed that he just never liked playing for the Mets in general. He did not give the Mets a chance to counter the offer the Rangers gave him. This all shows that the Mets never had a shot of bringing him back, you could call him whatever you want, but that won't change anything, he has made his decision. All in all, Jacob Degrom will go down as one of the best Mets pitchers of all time, it just really sucks that he had to leave right when we started winning. I wish him luck in Texas and I'm pretty sure every Mets fan will miss him.