Christmas Around the World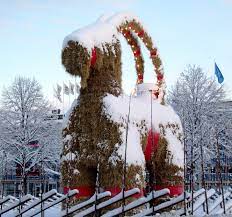 As the weather is getting chillier, local stores are getting busier, and winter break is in a few days, we know that Christmas is around the corner. In the United States, many of us have traditions such as decorating a tree, watching Christmas movies, ice skating, baking festive cookies, and keeping up with an Elf on the Shelf. All over the world, there are different traditions and customs when it comes to celebrating Christmas.
In Sweden, the Yule Goat has been a Swedish Christmas symbol for years now, going back to Ancient Pagan Festivals. The Yule Goat has been called the Gavle Goat since 1996, after the new tradition of a huge straw goat being constructed. The straw goat is 23 feet wide, 42 feet high, and weighs 3.6 tons. It is decorated with red ribbons and white lights and is put in the same spot every year.
In the United States and many other countries we hear of Santa Claus, Father Christmas, and Kris Kringle but what about his sidekick "Krampus"? In Austria, a "bad Santa" wanders the streets to find misbehaved children. Throughout December, figures with scary masks can be found all around pranking kids and adults.
In Japan, Christmas isn't a typical holiday since only 1% of the population is Christian. The people celebrate the 25th by going to the nearest Kentucky Fried Chicken. This tradition started in the late 70s after the advertisement campaign, "Kurisumasu ni wa kentakkii!" had been released, meaning "Kentucky for Christmas!". Some people order their meal boxes months in advance or wait in line for hours.
A well-known tradition that could also be found in the United States is the "Christmas Pickle". This tradition dates back to the 16th century in Germany. The tradition involves hiding a pickle in between branches of the Christmas tree and then whichever child finds it in the household, will be given a gift. This tradition could be skeptical to some as they claim this tradition of the "Christmas Pickle" originated in Spain when St. Nicholas rescued two young boys that were being held as prisoners in a pickle jar and got brought back to life.
In Norway, Norwegian Folklore states that on Christmas Day: spirits and witches fly on brooms for foolery and mischief. Norwegian families hide all of their brooms for sweeping so the witches and spirits cannot take them.
In the United States, we hang stockings by the fireplace for our gifts, but in Iceland, they use a pair of shoes. Iceland celebrates 13 days of Christmas and children are visited by the 13 Yule Lads. Each night before going to bed, children place a pair of shoes by the door hoping to find candy inside in the morning. However, if they misbehaved they will get shoes filled with rotten potatoes, just like how bad children get coal in America.
In Italy, there is no Santa Claus, but Befana the Witch. Christmas is celebrated on January 5th when Befana goes to each house through the chimney and fills good children's stockings with candy and gifts. The children leave her wine and pastries just as we leave St. Nick cookies and milk.
On Christmas Eve in Poland, families share a wafer and oplatek, and as each person wishes the other a Merry Christmas they break off a piece of the treat. Dinner is not served until the first star appears in the sky and if someone were to show up uninvited, there is always an extra plate setting at the table.