Greta Thunberg detained in German Protest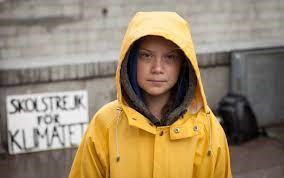 Greta Thunberg, a 20 year old from Sweden, is a climate activist who has been challenging people to take action against climate change. Recently, she has been involved in a German climate change protest in Lützerath. This protest led to her brief detainment, as she is seen being led out of it by photographers. The protest was against the demolition of a village in order to make more coal mining sites.
Thunberg states that "Germany is one of the biggest polluters in the world and needs to be held accountable", as lignite, also known as brown coal, is mainly produced in Germany. Lignite is the dirtiest and most negatively effective type of coal, and the area near where Lützerath is produces about 25 million tons of it. Many climate activists believe this 1.5 kilometer expansion of the coal mining site will affect the earth in extremely negative ways. They state that with this expansion, the Paris Climate Agreement would be violated.
Officials state that the group of protesters along with Thunberg were going to set the ground that was recently wet by rainfall in motion. This is the reason, according to officials, that many were detained and forced to leave the 'danger zone'. These protests have been on and off for years, with some protesters staying in Lützerath for over two years. RWE, the company planning this excavation, along with Germany's Green party state that the mining site wouldn't overall increase the carbon emissions, but climate reports show that any way of straying away from fossil fuels is needed. Along with this, many reports show that Germany actually has much more coal then needed. All in all, this protest has brung to light to many people that climate change will continue to be an issue until people do something about it.