First Brothers to Face off in the Superbowl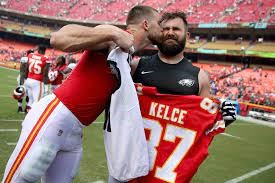 For the first time in NFL history two brothers will be facing off in the superbowl. Travis Kelce, tight end for the Kansas City Chiefs and Jayson Kelce, center for the Philadelphia Eagles. Former teammates and brothers will be facing off and they both have expressed how much this means.
On Sunday the Chiefs won the Conference Championship against the Cincinnati Bengals 23-20.
In this game Travis Kelce had 7 catches for 78 yards and 1 touchdown. He is an eight time pro bowler, four time first team all pro and has countless records. He is a big part of the Chiefs team and a huge reason they have made it this far. He has one superbowl ring.
On Sunday as well the Philadelphia Eagles won the conference Championship 31-7.
Jason Kelce plays a huge part of the Philadelphia offense. He is a six time pro bowler and 5 times first team all pro. He's a captain and a leader of the team. He also has one superbowl ring.
They have both talked about how sentimental this is to them. From being highschool teammates, to college teammates to now facing off in the biggest stage in the world.
Both Travis and Jayson have been so successful. To just make it to the NFL is an accomplishment, let alone be pro bowlers and facing off in the superbowl.
At the end of the day they are brothers and it all comes down to bragging rights. Donna Kelce, their mother said that at the end of the day all this means is who gets to brag on thanksgiving.