How to Welcome the Spring Season!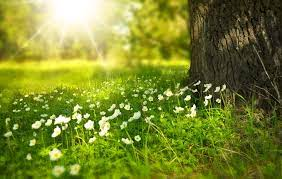 We are officially in the spring season! Spring is the time of year where the weather gets warmer, the days get longer, the nights get shorter, and the air is cool and fresh. The spring season of 2023 started on March 20th and ends on June 1st. Here are a few things to welcome the new season! 
Spring Cleaning 
Spring Cleaning is very common in houses all over the world. It usually takes one to three days, or more, to complete the cleaning. Spring cleaning is when you thoroughly clean your house and prepare it for the warmer weather throughout the spring and sometimes, summer season. It includes dusting, disinfecting, wiping down, vacuuming, and mopping the house. You can also bring it to the next level and replace bedding, blinds, shutters, and rugs. It makes the house feel brand new and resembles a new start for new opportunities. 
Fresh Flowers 
The growth of flowers is a symbol of spring and weather change. It is the time of the growth of trees, flowers, bushes, and the sun shining bright. Having fresh flowers in the backyard, garden, or vases around the house can really bring the effect and feeling of spring. Not only are fresh flowers beautiful, but they look nice and smell amazing as well. 
Spending time Outdoors 
With the weather changing and the days getting longer, spending time outdoors is more enjoyable now. There is no more freezing weather and no need for gloves and scarfs anymore. T-shirts, sundresses, and shorts come out of everyone's wardrobe and there are so many more activities to do. Mini golfing, flower and strawberry picking, and going on walks are all popular activities. For runners, going on runs is so much better and more comfortable as it is easier to run in warmer weather and parks and trails start to get crowded again. 
DIY Projects 
Spring is the season for crafts! Since the spring opens up with Easter as it is always the first Sunday after the full moon that occurs during the Spring Equinox, there are many popular crafts and DIY's to participate in. Coloring eggs and baking easter themed sweets are common during Easter. Many crafts and ideas are shown on google, pinterest, and other social media sites. It could be easy to access the parts and things needed for the craft and DIY. It is a fun way to spice up your home and make it look more festive for the new season. 
Focus on Yourself 
Since spring is now upon us, that means for students that finals and the end of the school year is approaching. Whether you are in college, high school, or junior high, focusing on yourself, mental health, and your priorities are important. Spring is the season for new opportunities and to try new things. Although this may not go for all people, a boost of serotonin and happiness occurs in some when the weather changes. It is more enjoyable to be outside, be social, and create motivation for school work. Planning vacations, plans with friends, and ending the school years brings excitement.