The Eras Tour Setlist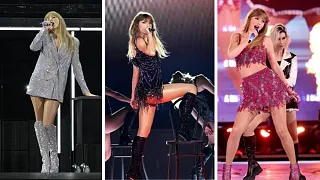 Taylor Swift recently began her 6th tour, "The Eras Tour", on March 17th, 2023. This was her first tour in over 5 years. When the tour dates were posted, people were shocked to see that there would be two tour openers per show. When the tour actually began, Taylor Swift's first night of performing lasted over 3 hours, with a 44 song setlist, and many costume changes.
The setlist represents Taylor's music through her different albums, eras and unique sounds. Some fans originally thought that the setlist would shorten after the opening show, but Taylor has kept the same setlist for every show so far.
The concert kicks off with 6 songs from her 7th album "Lover". The songs she picked were "Miss Americana & The Heartbreak Prince", "Cruel Summer", "The Man", "You Need To Calm Down", "Lover" and "The Archer". Taylor then jumps head first into her album "Fearless", with 3 songs. These songs are "Fearless", "You Belong With Me", and "Love Story".
Taylor then features her album "Evermore", with " 'tis the damn season", "willow", "marjorie", "champagne problems", and "tolerate it".  As the people recover from the slower songs, the setlist then jumps into the album "Reputation", which brings the energy back up. The songs played consist of " …Ready For It?", "Delicate", "Don't Blame Me", and "Look What You Made Me Do". This era is followed up with "Enchanted", which was the only song off "Speak Now" featured on the setlist.
The next album played brings us back to 2012, with 4 songs off "Red". The songs chosen were "22", "We Are Never Ever Getting Back Together", "I Knew You Were Trouble" and "All Too Well (10 minute version)". Taylor then highlights her album "Folklore" by playing 7 songs, consisting of "the 1", "betty", "the last great american dynasty", "august", "illicit affairs", "my tears ricochet", and "cardigan". 
To bring the mood back up, she then plays 5 songs from her album "1989", which are "Style", "Blank Space", "Shake It Off", "Wildest Dreams", and "Bad Blood". After this point in the setlist, Taylor chooses 2 new songs every night to be featured as her "surprise songs" of the night, which switch for every song show. For her first show, she chose her hits "Tim McGraw" from her debut album, and "mirrorball" from folklore.
To conclude the show, Taylor finishes her performance off with her new album "Midnights", which is a performance of 7 songs titled "Lavender Haze", "Anti-Hero", "Midnight Rain", "Vigilante Sh**", "Bejeweled", "Mastermind" and "Karma". The only album that doesn't have a song on the setlist is her first album, "Taylor Swift", but there is a possibility of getting one as a surprise song!