Did Taylor Swift and Joe Alwyn Really Break Up?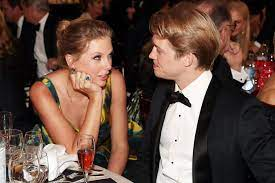 News spread on the internet on April 8th 2023 that Taylor Swift and her London boyfriend, Joe Alwyn, broke up. At first Swifties refused to believe the news due to Taylor being so quiet about their relationship. In addition various song lyrics implied that the couple was in a happy relationship were kept away from the public. In her bonus track "Paris" on her album Midnights she says "Romance is not dead, if you keep it just yours." 
The first source to report the breakup was Entertainment Tonight. The website said the couple broke up because the relationship just had to run its course, and that's why Joe Alwyn wasn't spotted at any show so far. Also, two weeks after the tour began, at a show in Arlington, Texas Taylor changed the setlist. Instead of performing "Invisible String" which is a love song believed to be about her relationship with Alwyn, she performed "The 1," a story of a breakup. These songs are both from her album Folklore. 
Another website, Glamour, gives us a timeline of how the breakup possibly went. Glamour says "After six years, Taylor Swift and Joe Alwyn have reportedly called it quits over 'differences in personalities.'" The article makes it seem that breaking up over personality differences is just code for "Look away, there's nothing to see here." 
According to a source who spoke to People magazine, not long after the breakup that the actor struggled with Swift's level of fame. The source added that Taylor has nothing negative to say about Joe. 
The timeline begins around March-April of 2023; Joe Alwyn hasn't been spotted at the first portion of The Era's Tour. However, many people don't think twice because Alwyn could've been filming a movie, or staying hidden due to the privacy of their relationship.  
On March 31st, Taylor changed the setlist from "Invisible String" to "The 1," which many Swifties in hindsight saw as a hint. Then, on April 8th 2023, Entertainment Tonight and People magazine both reported that the couple had broken up. The next day a fan shared on Tiktok of Taylor Swift getting emotional while singing "Champagne Problems." Swift sings, "Sometimes you just don't know the answer till someone's on their knees and asks you." 
For the first time post-breakup, Taylor Swift was spotted on the streets of New York's West Village, not too far from Cornelia Street, which she wrote a song about on "Lover." She was out to lunch with Jack Antonoff and his partner Margret Qualley. Not too long after this Taylor Swift was spotted in New York again with the Haim sisters, Blake Lively, and Gigi Hadid. 
This was when all the drama began, and fans began to believe the breakup was real. After a night at dinner Ryan Reynolds, Blake Lively, the Haim sisters, Gigi Hadid, and Swift's brother Austin all unfollowed Joe Alwyn on Instagram. It was recently reported that Abigail, the redhead from "Fifteen," unfollowed Joe Alwyn on Instagram on April 23rd. 
So, unfortunately for all the Reputation girls, Taylor Swift and Joe Alwyn have most likely broken up. It's ok though because sometimes things just don't work out.