Met Gala 2023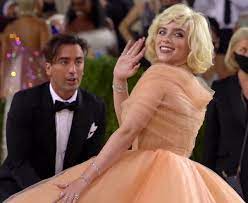 On May 1st, 2023, the annual Met Gala was held in New York City. The Met Gala is an annual fashion event that celebrities including singers, actors, social media stars, models, and more attend. Anna Wintour, Vogue's editor-in-chief, has the power to invite whoever she would like each year. This year's guest list was about seven pages long. 
Each celebrity wears a designer's unique and one of a kind work. The fashion world refers to this spectacular evening as "fashion's biggest night". 
Each year, the Met Gala has a theme. This year, the theme is based upon the opening of the Costume Institute expedition entitled "Karl Lagerfeld: A Line of Beauty". 
Karl Lagerfeld was a German fashion designer. He had major accomplishments throughout his career, one being joining the Chanel team in 1983. 
Karl Lagerfeld had sadly passed away February 19th, 2019 due to pancreatic cancer complications. The Met Gala had chosen this years theme to not only honor the new exhibit, but most importantly, honor Lagerfeld's life and carry on his legacy. 
This glamorous fashion show is different from the rest. It is not only different from the extraordinary outfits worn, but also because it is a fundraising event. It is held to raise money for the Metropolitan Museum of Art's Costume Institute, also located in New York City. 
As soon as the Met Gala begins, social media users and fans are anxious to see what their favorite celebrities' outfits will look like. Doja Cat, American rapper and singer, had dressed as Karl Lagerfeld's cat, Choupette. 
Doja wore a face prosthetic to appear as a cat, a hand-beaded white gown, and sparkling cat ears. The designer of this gorgeous dress is Oscar de la Renta, who in fact had a close friendship with Lagerfeld. Throughout an entire interview, Doja truly portrayed her character. Each time she was asked a question, she responded by saying "Meow" and nothing more. 
Many have strong opinions on the fashion seen this year. According to Vogue, Jennifer Lopez has won the title of "Most Fascinator-Worthy Cat Eyes" throughout all of the fashion seen that evening. 
Be sure to check out some of the looks, you definitely don't want to miss them!