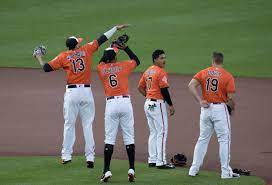 Going into this season ,the Baltimore Orioles were not expected to do anything remarkable. After having three 100 loss seasons in the past five years, the Orioles were anticipated to be around a similar range in losses. But this season did not turn out the way any Oriole or baseball fan in general thought it would.
The Orioles just clinched their way into the playoffs on September 18th. They are one of four teams to clinch the playoffs so far, and the Orioles were the third to do so. Baltimore this season is what most fans would call a movie. After being bad for so long, they brought up all of the young guys from the minor leagues, and now they are one of the best teams in baseball. Led by franchise catcher Adley Rutschman and the veteran pitching squad, the Orioles are on pace to make it far in the playoffs. After trading franchise third baseman Manny Machado to the Dodgers for nothing, Orioles fans were worried they were about to enter a long playoff drought. They did, but it could have been way longer if it wasn't for the amazing drafting done by the Orioles organization.
The Orioles have had the number one minor league system for around four years. They only recently lost that spot because all of the talent is in the major leagues, but they still have the number one prospect in all of baseball, Jackson Holliday, son of former major league player, Matt Holliday, in the minors leagues.
At this rate, the Orioles are expected to be a threat for years to come, and the fact that they already are without all of the talent that is still in the minors is beyond scary. Fans are extremely excited to see where the Orioles are going to end up in the future.