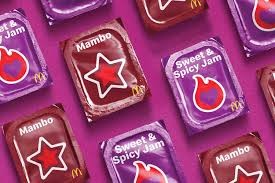 McDonalds lovers, did you hear that McDonalds is adding two new brand new sauces to their menu?  These new limited sauces are releasing on October 9th. The two new sauces are called Mambo and Sweet and Spicy Jam. The Sweet and Spicy Jam is an amazing mixture of red pepper sauce and that little extra heat from cayenne pepper. This could be a world-stopping combo for the people who like a little spice with their chicken nuggets or maybe even with their fries. McDonalds has described it as a  "breakfast inspired sauce". They recommend trying the new sauce with a Sausage Egg McMuffin or incorporating the new Sweet and Spicy Jam sauce into any of your breakfast foods.
The second sauce, called Mambo, is a sweet tomato base spicy vinegar base mix. This sauce would go perfect with a nice cold sip of Sprite. McDonalds' fans are super eager to try out this new sauce with their favorite meals. Mambo sauce might not be a brand new idea but it sure is a good one to bring to McDonalds. Mambo sauce first appeared at other places you may know like KFC. The good thing about it being added as a new dipping sauce to the McDonalds menu is that you can try it with whatever you want to. If you want to try it with your Wendys meal, you can. Or maybe you just want some sauce laying around in your car for emergencies.
The sauces are both very versatile and have unique flavors to them. They can appeal to all audiences where you like sweet, spicy, or salty things. With these sauces, you can try it all! Don't forget to stop by your local McDonalds on October 9th and try them out. You can even share your review with a friend or two; just remember that both these sauces are limited so maybe you should stock up if you really like them.