'A Quiet Place' Gets Loud Reviews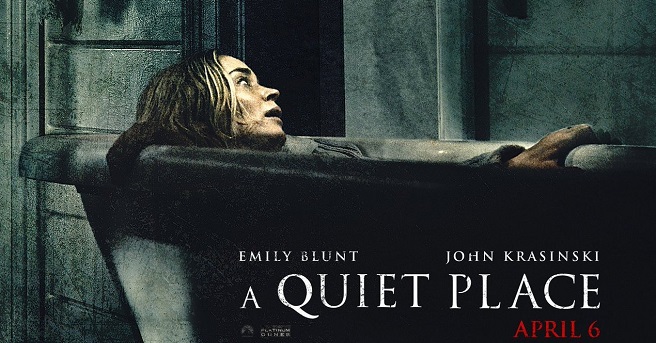 New movie A Quiet Place premiered Friday, April 6th. The movie is notable for its lack of sound throughout the film, which poses some annoyance among popcorn lovers in the movie, as it is extremely quiet and you can hear just about any slightest noise. The movie is set in a post-apocalyptic world with what seems to be the only surviving people left. Some type of creatures with an amazing sense of hearing have taken over, and if you make noise, you can die in an instant.
The silence from the movie produces a tension among the crowd. You have no idea when something dramatic will happen and if it wasn't for the slight horror music that plays occasionally, you would be virtually unaware of when you should pay close attention to the screen. At one point in the movie, after a silent setting of dinner and Monopoly, one of the children knocks over a lamp. Everyone and everything goes silent as they wait unsteadily to see if the creatures will appear. Soon, it becomes apparent that the creature wasn't coming this time. Now you have a minute to catch your breath and become at ease.
The movie stars John Krasinski and Emily Blunt. Krasinski called the movie "a sound designer's dream," in which he also directed it. With almost no dialogue, A Quiet Place relies on visual storytelling and composer Marco Beltrami's music for jump scares. The silence was definitely a new tool used by Oscar winning sound editors Ethan Van der Ryn and Erik Aadahl. It turned out to be very successful with the production of a horror movie that wants to keep you on the edge of your seat, clenching your teeth and biting your nails in nervousness of what will happen next.
The characters in the movie communicate by ways of sign language. It is implied that because of their prior knowledge of this, they survived much longer than their neighbors. Actress Millicent Simmonds plays the eldest child of the couple who is deaf both in the movie and in real life. She uses her real-life experiences to deliver a convincing portrait of a girl who is shut out by her family. Noah Jupe, who plays her brother, also delivers a powerful performance as a silent actor. Tension rises as well when Blunt's character is revealed to be pregnant.
Overall, this movie was a great horror movie that will keep you interested in the story it wants to tell. A Quiet Place is rated PG-13 and is certainly worth your time.