Halloween Movies to Watch this Fall!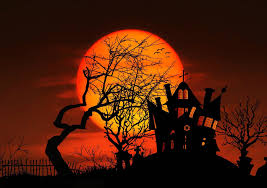 It's October, which means that Spooky season has finally arrived, and boy is it in full effect.
The leaves are changing colors and the temperature is dropping.  In other words, it's officially acceptable to snuggle up on the couch with a warm pumpkin spice latte and binge watch all of the best Halloween movies known to man!  
Sometimes it's hard to decide what type of movie you want to watch.  Scary, thriller, action, drama and comedy are just some of the many genres that pop-up in the Netflix "what to watch" page.  There are times when people become so frustrated with picking a movie that they don't even end up watching one at all, or they end up watching one they've seen a million times.  Here's a list for some classic, fan-favorite Halloween movies that you can watch all throughout the month of October to help avoid the troubles that come along with finding a movie to watch!
Scary
Halloween (1978)
On a cold Halloween night in 1963, six year old Michael Myers murdered his sister.  He was sentenced and locked away to be institutionalized for 15 years. But, in the midst of being transferred, Michael escapes, and returns to his hometown where he stalks his next victim.  
A Nightmare on Elm Street (1984)
Freddy Krueger is the "midnight mangler" who preys on teenagers in their dreams, ultimately killing them in reality.  The main characters, Nancy and her boyfriend, discover that they may have the key to solving this mystery – but will they bring an end to this madness before it's too late?  Watch to find out!
Child's Play (1988)
Dying murderer Charles Lee Ray uses black magic to put his soul inside a doll named Chucky while trying to escape Detective Mike Norris.  Little does Charles know that a young boy – Andy Barclay – is the soon to be owner of the "Chucky" doll. Charles confides in Andy as he continues to commit numerous murders, but once the adults finally accept Andy's story as truth, it's too late.
Scream (1996)
A peaceful town in California turns into a bloodbath when a masked killer haunts the town.  A year after her mother's death, teenage Sidney Prescott becomes the target of a killer who has just murdered one of her classmates.  The crazy masked killer terrorizes Sidney and her friends, calling them numerous times, and using horror films as part of a deadly game.  When the time comes, Sidney will discover the man behind the mask. Who is this masked madman?
Classics
Beetlejuice (1988)
After Barbara and Adam Maitland die in a car accident, they find themselves stuck haunting their country residence, unable to leave their house.  All is well until the Deetz's move into the house. The Maitlands did everything in their power to scare off the Deetzs, but they were just not scary enough.  The Maitlands, desperate as can be, hire freelance bio-exorcist Beetlegeuse to get the job done and get rid of the Deetzs for good, but the job is stalled when Beetlegeuse makes it his priority to marry the daughter of the Deetz's, so he can return to the land of the living.
Ghostbusters (1984)
Who you gunna call?  That's right, Ghostbusters!  After three ghost scientists lose their research grants at a university in NYC, they decide to start their own ghost exterminating company called "Ghostbusters."  After some initial skepticism, business begins to boom as the Ghostbusters rid the city of its undead. But when a downtown skyscraper becomes the focal point of spiritual activity that's linked to the ancient god Gozer, the problem may be more than the team can handle.
Casper (1995)
Casper is a kind young ghost who peacefully haunts a mansion in Maine.  When paranormal expert James Harvey visits the mansion to remove Casper and his three uncles, he brings along his teenage daughter, Kat.  Casper quickly falls in love with Kat, but since Casper is a ghost, Kat can't be with him. After regaining some of his old memories he made before passing away, Casper discovers the secret that would bring him back to life, allowing him to be with Kat.  Does Casper come back to life? Watch the movie and see for yourself!
Edward Scissorhands (1990)
A scientist dies before he can finish his greatest invention – that being, a perfectly animated human being named Edward.  Since Edward was never completely assembled, he is quite weird looking. To top it off, his freakish appearance is accentuated by the scissor blades he possesses as hands.  Edward's life changes when a kind lady named Peg welcomes him into her home. In the beginning, he is welcomed into the community with open arms, but as time goes on, his scissor hands increasingly separate him from the others – making him an outcast, especially as he begins to fall in love with Peg's daughter.
Hocus Pocus (1993)
Three hundred years have passed since the Sanderson sisters were executed for practicing their dark witchcraft.  Returning to life – thanks to a combination of a spell spoken before their demise and the accidental actions of Max, the new-kid-in-town – the sisters have only one night to secure their continuing existence.  Can they do it?
Family Friendly
The Nightmare Before Christmas (1993)
Jack Skellington, Halloweentown's beloved pumpkin king, has become bored by the town's annual routine of frightening people, which the townspeople prepare all year for.  When Jack accidentally stumbles upon Christmas Town, he makes it his mission to kidnap Santa in an effort to bring Christmas under his control. However, Jack doesn't necessarily fulfill the traditions of Christmas – reindeers appear as skeletons and toys are, well, not typical toys.  Jack's Halloween implementations on this Christmas nightmare make the movie a great Halloween watch!
Coraline (2009)
While exploring her new home, Coraline discovers a secret door, behind which lies an alternate world, the "Other World," if you will, which is very much like Coraline's own, but appears to be better.  This discovery is all fun and games until Coraline's "Other Mother" tries to coerce her into staying there forever. Coraline must preserve and use all of her resources in an attempt to return home to the real world.
Halloweentown (1998)
In this Disney Channel Original film, Marnie and her two siblings get a big shock when they follow their grandma home, that is, to Halloweentown – a place that seems extremely magical and exciting, where all of the supernatural beings can live a normal life.  Unfortunately, the town is in great danger, and Marnie and her family must come together to fight the evil that is trying to bring down the exciting town. Oh, one more thing, Marnie and her siblings come from a family of witches. With their powers, will they be able to save Halloweentown?