The Sultan of Swat: Babe Ruth Comes to Lindy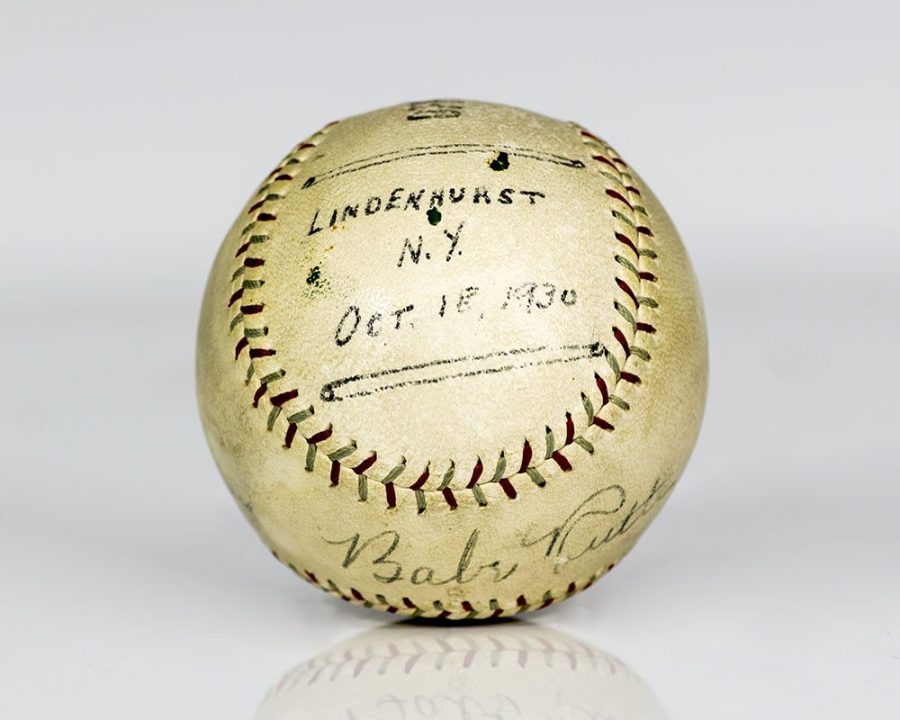 George Herman Ruth, Jr., famously known as Babe Ruth, was America's most famous professional baseball player. His Major League Baseball career consisted of 22 seasons, from 1914 until 1935. Ruth was an icon of America's golden age during the Roaring Twenties and gained his traditional fame as an outfielder for the New York Yankees. His record includes 714 home runs, 2,213 runs batted in, 2,062 bases on balls, a slugging percentage of .690, and an on-base plus slugging value of 1.164. His history with Major League Baseball is remarkable and continues to inspire baseball fans nationwide. In Lindenhurst, Babe Ruth is a part of our history.
Our very own community may be unaware of Babe Ruth's visit to Lindenhurst on one fateful Saturday in October 1930. Ruth and Lou Gehrig, another legendary baseball player in his own right, came to Lindenhurst to play an exhibition game on October 18, 1930. The game was held just twenty days after their season ended with the local newspaper, the Lindenhurst Star, reporting an estimated 4,000 attendees flocking to the "once in a lifetime" game. The game was held at Meridale Baseball Park on West Montauk Highway and South Second Street. The baseball field no longer exists, but the memory still lives on. According to a Newsday article, longtime Lindenhurst native, Joe Stenglein remembers the event as if it were yesterday. Stenglein was 12 years old and rode his bike down to the Meridale Baseball Field. In his own recelect, Stenglein recalls the event, "I rode my bike down to the park, put my dollar in the hat and watched Babe Ruth play." It was truly one of the greatest sporting events in Lindenhurst's history, but why was Lindenhurst chosen for the exhibition game? 
In a time that is now distant in Lindenhurst's history, our village was once a large attraction in Long Island for being a vast fishing community. Besides baseball, fishing was a big pass time for Ruth and Gehrig. Photos of Ruth showing off his fish and napping in a fishing boat can be found at the local Lindenhurst Village Museum. Ruth and Gehrig's love for fishing allowed them to forge close relations with Addie Klein, manager of the local baseball team, the Lindenhurst Nine. These factors contributed to the exhibition game that was eventually held. The Lindenhurst Star reports the legendary day starting off with a grand parade to welcome Ruth and Gehrig to Lindenurst, with the procession advancing down Wellwood Avenue. Surprisingly, the Lindenhurst Nine and the Yankees were tied at 4-4 in the ninth inning. It was clear that Lindenhurst was here to play. They were serious about winning and their competitiveness against the Yankees that was clear that day. The game was a suspenseful match, but Babe led the Yankees to victory with the final score 10-4 against the Lindenhurst Nine.
Babe Ruth is remembered for his valiant performance as a professional baseball player and contributed his skill towards many victories for the teams he participated on. Lindenhurst should be proud to say that two legendary baseball players enjoyed the quaint attractions and fishing recreations our village had to offer. Ultimately, the charm of Lindenhurst forged one of the greatest local sporting events in our village's history.