Lindenhurst Wrestling: League III Champions.
The Lindenhurst Varsity Wrestling team did some damage this year. Here's a recap of the season.
On February 8th, teams all across Suffolk County gathered at six different high schools for the League Championships. The League Championships are the County Championship qualifiers. Each league sends four wrestlers per weight class to the County Championship. The Lindenhurst Bulldogs are in League 3. After competing in League 2 for many years, Lindy went down a league to compete with Copiague, Half Hollow Hills East, Huntington, Newfield, Northport, and Smithtown West. 
The Bulldogs had lost the League Dual Meet title earlier in the season after losing to Northport 37-30. But the Bulldogs did not give their hopes up and knew they would still end the season on a high note. Lindy went against some tough teams in dual meets this season. They also defeated the defending state champions of Massapequa at their annual Lindenhurst Invitational Tournament. Lindenhurst also qualified for the Suffolk County Dual Meet Championships for the second year in a row. They defeated the Bellport Clippers in the opening round and fell to the Hauppauge Eagles in the quarterfinals. With a week and a half off of competition, the boys were now preparing for the League Tournament. 
After a tough week of practice courtesy of Coach Brodmerkel, the Bulldogs were ready for war. After a great first round, Lindenhurst was looking to send 17 people to the counties. Winning in the quarterfinals of the League means you secure your spot in the County tournament and if you lose, your season is over. After this round, Lindenhurst wrestlers secured 13 spots in the county tournament. These wrestlers included senior Edwin Contreras at 113 pounds, 8th grader Christian Campay at 120 pounds, sophomore Matt Corbett at 126 pounds, junior Anthony Colavito and sophomore Joe DeGregorio at 132 pounds, senior Keith Renick at 138 pounds, sophomore Ryan Sims at 152 pounds, sophomore Jake Trovato at 160 pounds, senior Rodrigo Melendez at 170 pounds, junior Ethan Aulino at 182 pounds, sophomore Jairo Caceres at 195 pounds, senior Jeff Perez at 220 pounds, and junior Lucas Albert at 285 pounds. The semifinals were just as wild as the quarter finals, and Lindenhurst was sending seven wrestlers into the League finals. Christian Campay, Keith Renick, and Jeff Perez finished in 3rd place, while Matt Corbett, Joe DeGregorio, and Ryan Sims finished in 4th place. The finals started at 4:30. First up was Lucas Albert at 285 pounds. He was going up against senior Nick Butler from Northport. Albert was unfortunately pinned, but he has high hopes going into the county tournament. Next was Edwin Contreras at 113 pounds. He had a match up with Nick Demarco from Northport. Contreras put up a good match, but a few tilts elevated Demarco as Edwin lost 11-5. Anthony Colavito took the mat next at 132 pounds, but collapsed under the pressure and was pinned in the first period by Half Hollow Hills East's Vin Aloe. Lindenhurst had four straight finalists at 160, 170, 182, and 195. Jake Trovato kicked this off at 160 pounds against Nick Otero from Copiague. It was an intense battle. There were scrambles all over the place, but Trovato would lose 10-9. Rodrigo Melendez was next at 170. He went up against Northport's Nick Sergi. This match came down to the wire. Melendez was down by two with less than a minute in the third period. Rodrigo was taken down and dropped the match 8-4. Ethan Aulino took the mat next at 182 pounds. Aulino was returning this year after not wrestling his freshman and sophomore year. Aulino was the #2 seed in the tournament, and he was going up against Robert Smith from Huntington. Aulino was down 2-1 in the second period before he hit a blast double and put Smith straight to his back. Ethan got the fall and secured a league championship. Sophomore Jairo Caceres was the last at 195 pounds. He had a rematch with Newfield's Mohab Ali. The two wrestled earlier in the season at the Amityville Tournament. Caceres was losing 4-3 before he took a shot with 15 seconds to go. Caceres and Ali got into a big scramble that Jairo almost won. Caceres lost the match 4-3. Ali is currently the #1 ranked wrestler in Suffolk County at 195 pounds and Jairo is also up there with him. 
The Section XI (Suffolk County) Wrestling Tournament took place on Saturday February 15th and Sunday February 16th. Going into the second day of the tournament, Jake Trovato, Jairo Caceres, and Jeff Perez locked up a spot on the podium, with Ethan Aulino wrestling in the "blood round" on the second day. Trovato had a tough match in the semi finals against Islip's Jack Sphan. Jake would wrestle back and finish off his sophomore campaign with a fourth place finish in Suffolk County. Jake is going to be a monster for the next two years, as he plans on wrestling at the Virginia Beach Nationals where he placed 8th last year. Jairo Caceres wrestled Miller Place's Chris Bold in the 195 pound semi final. Caceres lost in overtime after a controversial stalling call in the third period. Caceres would also wrap up his sophomore year with a fourth place finish. Caceres is a tank, and will be a county champion next year. Jeff Perez was shaken up a bit in the semi finals. He was pinned in the first period by Jashon Hines from North Babylon, who Perez previously beat twice in the regular season. One of those matches was a thriller in the finals of the Lindenhurst Tournament. Perez finished off his Lindenhurst career two time All-County, one time county finalist, three time All League wrestler, a 2018-2019 League Champion, and a member of Lindenhurst Wrestling's Century Club, which means he piled up over 100 wins in his four year career. Perez has a great career to be proud of. Ethan Aulino also beat Robert Smith from Huntington once again to lock up All-County honors. He would finish 5th in the county his junior year. 
The Bulldogs have a bright year ahead of them. With great potential, the future is looking to become the present. When asked about next season, sophomore Jairo Caceres said, "I have a good feeling going into next year. Our team is young and has a lot of potential, we had a great year with our studs and we're only getting better… I have high hopes for everyone." The energy going into next year is electric, and the boys have a good offseason ahead of them before next year's season starts. 
About the Writer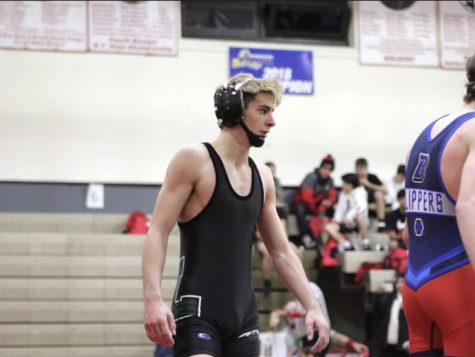 Anthony Colavito, Editor in Chief
Anthony Colavito is a senior at Lindenhurst High School. This is his third year writing for the Charles Street Times. Colavito wrestles for  the Lindenhurst...