Adam Gase on the Hot Seat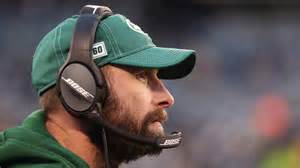 Long before he started coaching in Rutherford, New Jersey , Adam Gase was known as a quarterback whisperer and a great offensive minded coach in the NFL.  He has even gotten praise from future Hall of Fame quarterback, Peyton Manning.  With Gase going into his first season last year, it gave Jets fans just a sliver of hope from how highly Manning spoke of his former quarterback coach. As we know, quarterback Sam Darnold played his second NFL season last year, and he just stunk. His mechanics were off, he didn't set his feet while he was throwing the ball, and the offensive line was so bad, he was running for his life every play. This led to a lot of sacks and throwing risky balls that led to turnovers.
Gase had behind the scene issues with star safety Jamal Adams and running back Le'veon Bell as throughout their relationship with their coach they never saw eye to eye with him. Adams was recently shipped off to the Seahawks for two first round picks and a bum safety in return. Bell and Gase still have issues with their relationship as with Bell's huge contract and the fact that he has not been producing.  The Jets GM, Joe Douglas, will most likely cut him after this season to free up some cap space. This off-season, the Jets tried to buff up their offensive line with some new faces and spent their first round pick on the left tackle out of Louisville, Mekhi Becton. On top of that, they drafted some more help for Sam Darnold, by drafting the a sleeper wide out in the second round Denzel Mims out of Baylor. Even though Gase finished 7-6 in those thirteen games in 2019, he still had some of the worse play calling in recent memory, and it continued in week one at Buffalo this year by starting the game with three 3 and outs and a interception. He also loves calling his wide receiver screens every other play and throwing a five yard out on third and ten .
Remember the days when Le'veon Bell had the most scrimmage yards in the league, and was a top three running back?  Now in Gase's system he is a shell of his former self with the awful play calling and has a bottom tier offensive line in the league. Even this week in week two of the NFL season we looked pathetic still as we were playing against the 49ers backups as each player went down on their team went down with injuries. The Jets still couldn't produce on the field. It truly is pathetic that the Jets organization has to deal with this.  New York Jets fans, deserve better than another 5-11 or 4-12 season.  They've been a losing franchise for years. This team and organization will certainly move on without Adam Gase.  After this season or mid season if he even lasts that long.  He has to put a winning product on the field or he's done. It's just simple as that. It's do or die for this coaching staff.