Lindenhurst Cross Country Team
Staying Strong and Keeping GDS Tradition Alive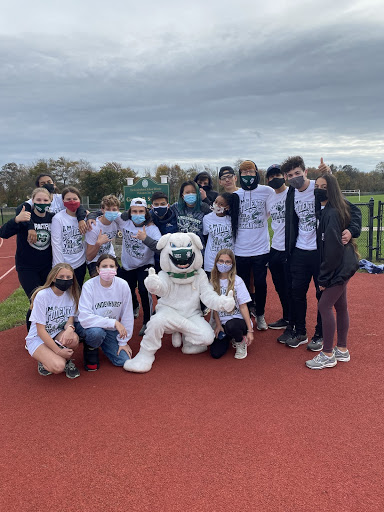 During the last couple months, Section XI  has moved sports to the spring this year and teams are not allowed to have official practices. The Lindenhurst track and field team however, is still working and still working for this upcoming season. Now that the states' restrictions have started to loosen up a bit, they have been able to hold small team practices in open areas with masks and social distancing. It is really remarkable to see a team stay together as well as they did though this harsh and unusual times that we are all going through. Some athletes on this team are so motivated, they kept running during the really bad times of quarantine and still had the motivation to keep improving every day.
There scheduled is to run five days a week maybe even six if our runners are up to the challenge. The workouts consist of intervals of distances of 600-1600 meters and for long road runs the distances vary from 3 to 8 miles. But for fun days just to give the team a break, they do scavenger hunts to find certain objects through the area and they have to rack up points in teams to win. When they play soccer though, they put friendship aside, and act as strictly competitors going head head for trash talk rights.
This is all able to happen because the Lindy's XC seniors stepped up to the plate this year. This team has been though so much these past two years following the tragic loss of head track coach of 24 years George Smawley. He has had a lasting impact on this team ever since he started coaching those 24 years ago.  Even though he has passed, he is still with this team on every run. This team lives by the words that Coach Smawley has left for them.  He taught them there are no shortcuts in this sport, and that you have to keep working every day so you can improve to be the best you can be.
Will Rella, one of the senior captains on the XC team, spoke about how coach Smawley's impact is still being felt of this team.  He said  "Coach Smawley had a major impact on this team. December 3 we found out the most  devastating news about our coach, mentor and friend that affected us throughout the year. There's truly a missing part on our team. Coach Smawley's running knowledge was incredible, during our practices he made it a point to be everywhere and to help out. From doing distance coaching to hurdling coaching. He knows every aspect about track. He had been the coach on this team forever along with Coach Carlson; he knew everything about how to become a better runner. For every practice when we put our hands in we make sure to say his name, even though with all of this stuff in the world that's going on today, we make sure we don't leave practice without saying his name. As a team we did many things to honor him, from renaming to track in honor of his name to renaming a road run after him. We all truly miss him so much, everyone on the team makes sure that we tell new incoming runners about him and his legacy that he left. He's never gone and is still watching over us. His passing made the team even closer than before. We are all there for each other when we need it, we will always be grateful for the knowledge and support he instilled in us. He made our team our second family. Him showing us his legacy made us better athletes, and love the sport of running."
Shirley Guenfoud, a senior on the Lindenhurst XC team known for her amazing positive attitude day in day out.  When asked about the most important aspects of this team she said,  "The most important aspect of a team is the word itself, "team." The bonds that have rekindled, and commenced, this season between the athletes are stronger than ever after quarantine's impact on families and friends. It's all because of one another that we are all still motivated for the practices; the cheers and screams when finishing a long run, the encouragement to finish a workout, or simply team bonding such as tie dye day. It's the support and generosity that we have for one another that motivates us to be our best selves." This team is built around a positive attitude  and to always encourage one another to be the best that they can be.
This would not be possible to have these practices without the great senior captains Will Rella, Patrick Pollard, Mikayla Silva, and Joselyn Osorio. They have shown what it means to be a leader during these last couple months when the world has been falling apart. This group of seniors has shown time and time again what the GDS mentality is about to keep working and improving day in day out to better themselves and this team. This team by the start of the season will be determined to keep the hardworking mentality that was instilled by coach Smawley 24 years ago and they will keep the running and lifting each-other up to be the best team they can be.