Comparing the Most Popular TV Streaming Services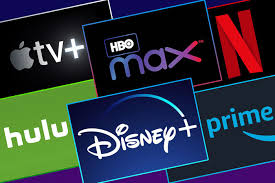 Ever since the emergence of Netflix in 2007, streaming services have become the new alternative to traditional cable. Over the past few years, more and more people have ditched the expensive box and switched these new streaming services. As a result, there have been an abundance of services that have emerged, each offering their own unique content. With all of these services available, people are left unsure which will best fit their needs. In this article, some of the most popular streaming services will be compared in terms of price, content, and overall value.
Netflix
As you know, Netflix was the pioneer when it comes to TV streaming. The company Netflix actually began in 1997, and offered families the chance to rent DVDs of TV shows and movies through the mail. Ten years later, they made a change that would forever change the way people watch TV. In 2007, Netflix launched their streaming services, which gave their subscribers the ability to watch their favorite shows and movies from their home. Ever since their launch, over 200 services have emerged, with more being developed as we speak. With all of this competition, Netflix still remains at the forefront of TV streaming, despite many of their content being removed and put on other services. Their Netflix originals are primarily what keeps them on top, as shows such as "Ozark" and "Outer Banks" have brought the company great success. Overall, despite some of the controversial content and removal of many beloved shows, Netflix remains one of the best and most diverse streaming platforms.
Price: $8.99-$15.99 per month depending on the plan you chose
Content: Some questionable content, but overall a lot of quality selections across all genres.
Value: Has been and still is one of the premier platforms on the market.
What Makes it Special: Best Original Series
Amazon Prime Video
Amazon has been one of the most successful companies over the past decade. While most people think of their online shopping service, Amazon has expanded their brand to be so much more. One of the ways they have done this is through Amazon Prime Video. Launching in 2006, Prime Video has been one of the most underrated TV services on the market. Surprisingly, Prime actually offers more titles than a majority of their competitors, including Netflix. With a variety of originals such as "The Boys" and "Jack Ryan" starting to gain popularity, Prime Video has only been getting better. With this being said, similar to Netflix, they have and will continue to lose a lot of the third-party content that they do not own. Despite this, Prime still remains a quality streaming service.
Price: $8.99 or $12.99 per month depending on the plan you chose
Content: Has the biggest library out of any of their competitors, but lacks the quality of services like Netflix.
Value: Provides a lot of content for the price, overall great value.
What Makes it Special: Largest library and diversity in terms of content
Hulu
Like the other two services described above, Hulu was also one of the early streaming services to emerge. Starting in 2008, Hulu has been one of the top services for a long time. Like Netflix and Prime Video, Hulu also has their own collection of originals, most popular being The Handmaid's Tale." However, compared to these two services, Hulu has by far the worst originals, and it's not even close. Despite this, Hulu makes up for their poor selection of originals by having the most access to third party content than any other service. From HBO to Animal Planet, Hulu has access to so many popular titles, and have been able to retain these titles unlike their competitors due to the fact that they have a live TV package as well. With some of their packages being even cheaper than their competitors, Hulu remains in the top 3 of best streaming services.
Price: $5.99 for ad-supported and limited access, or $11.99 per month with no ads and all content
Content: Lacks original content, but makes up for it with third party content
Value: Each price range is appropriate to the quality you desire
What Makes it Special: Amazing collection of networks and programs available.
Disney+
Disney+ is one of the newer streaming services available to the public. Launching on November 12, 2019, this relatively new service was one of the most hyped up platforms ever. Fans of Disney, Star Wars, Marvel, and Pixar were all thrilled when all of their favorite movies and shows were finally available to stream all in one place. After its release, the hype died down, as unlike their competitors, the content on Disney+ was relatively stagnant, with no new shows/movies being released on the platform other than "The Mandalorian". What many fans forget is that this service is less than a year old, and there are so many new originals that are scheduled to be released in the new future. As the world begins to normalize following the pandemic, don't be surprised when Disney+ starts to release a lot of new content and original series in the coming months.
Price: $7.00 per month
Content: Limited if you are not a fan of Disney. If you are, there is all of the Disney content ever released to date and more coming.
Value: The $7.00 price tag makes this service a bargain for Disney fans.
What Makes it Special: DISNEY!
HBO Max
Similar to Disney+, HBO Max is one of the newer streaming services available. HBO Max released on May 27th of this year, and gave many fans all of their favorite content from the cable giant. With beloved TV shows such as Game of Thrones and Friends available exclusively on this platform, HBO Max is one of the first of many of the new streaming services to have some content exclusive to their network. Luckily for HBO Max, they have been creating some of the best content for over a decade, so their platform is filled with all of their best work. On top of that, they have a diverse library that includes shows and movies from DC, TNT, and many other great networks. With HBO Max having a great selection of content, it does come with a much steeper price tag than their competitors. With this being said, the quality of content makes the price worth it for many.
Price: $15 per month
Content: One of the best collections of TV shows and movies on the market.
Value: Very expensive compared to the others, but content makes it worth it.
What Makes it Special: Best Overall Quality of Content
Apple TV+
Apple TV+ is actually a brand new streaming service provided by Apple. Releasing on November 1st in over 100 countries, Apple TV+ hopes to be the next big streaming service. With a super low price of $5 a month, this service has taken a unique approach, as this service only shows original content from Apple. This means the service is made up of only 30 original shows and movies, all of which are brand new. This unusual approach could either lead to major success or failure for this new service. If some of the content gains major popularity, people will easily be willing to pay this low price for the service. However, if all of the content does not get any traction, this service will completely flop. Clearly, Apple took a gamble on themselves, and as of now, it is too early to tell whether it was worth it.
Price: $4.99 per month
Content: Smallest variety of content by far.
Value: Can't really be determined as of now.
What Makes it Special: Only Apple TV+ Originals