Lindy Students Weigh in on the Hybrid Plan
A 7th Grader vs A 9th Grader Share Their Opinions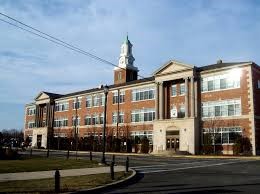 Lindenhurst High School and Middle School students had a change in their regular school regime, due to COVID-19 impacting our world. For those students attending school throughout the hybrid model, the 25% plan converted to the 50% on the week of November 9th, 2020. The hybrid students attend in four different cohorts: an A, B, C, and D grouping. There are numbered days the students follow as well. Days one through four are considered typical A days. On the other hand, days five through eight are considered B days. If you are not in person, you are at home joining Google Meetings during your designated class periods.
John Sinkus, a seventh grader at Lindenhurst Middle School, attends school with the D day cohort grouping every four days. Ronan Pollard, a ninth grader at Lindenhurst High School, attends school with the C day cohort.
How do you feel about taking classes virtually when you are not in person?
| | |
| --- | --- |
| John (Middle School) | Ronan (High School) |
| "I do not have a particular problem with the virtual school on the days I do it. I am aware it's not the same as going in person and experiencing the presence of other people, but it can make you feel like you are in class when you are on a meet." | "I am not bothered by virtual school. It does not matter to me whether I am in school or in person because I find the experience the same." |
How does it feel to be in person with these changes to how we attend school?
| | |
| --- | --- |
| John (Middle School) | Ronan (High School) |
| " I feel it is nicer going in person since we have more space in the hallways and stay distanced, rather than have it crowded like usual. In ASL, we would normally have the chairs set up in a U-shape, but now they have to distance the desks so it's a little different."  | "I feel good about going in person. It is nice to physically be in class amongst other classmates."  |
How do you feel about your music course(s)?
| | |
| --- | --- |
| John (Middle School) | Ronan (High School) |
| "I am in band and chorus. I am glad that I get to play and sing with everyone in person when we can, even if it's twelve feet apart. " | "I take the guitar course at the high school. I find it as a relaxing class because we get to jam out on the guitar and learn all of these new songs. I have the best teacher!"  |
What is your lunch situation like?
| | |
| --- | --- |
| John (Middle School) | Ronan (High School) |
| "We have to sit distanced when we eat. I bring my own lunch and do some work if I have any while I am there. Even though we are distanced, the cafeteria is still pretty noisy!" | "Lunch is fine for me and I do not mind sitting alone because I like to get work done in lunch, as well as having some space for a while."  |
How is it taking the bus?
| | |
| --- | --- |
| John (Middle School) | Ronan (High School) |
| "There aren't a lot of kids on the bus and we are all distanced. I like to listen to music on the way home. | "I don't mind taking the bus home from school. The ride is normal just with less people, distancing, and masks." |
 What do you think about moving to a 50% capacity?
| | |
| --- | --- |
| John (Middle School) | Ronan (High School) |
| "I am concerned that once we move to 50% there will be a couple of cases. As long as everyone follows all of the distancing rules, everything should be all good." | "I do not mind having the 50% capacity, but I am not fond of walking around with shields. Besides the shields, I have no other concerns" |
The experience for middle school students and high school can vary and they can have many different opinions based on their school experience. I think that the experiences might vary because they are in different schools and they are in school with different age ranges. The middle school has younger students, so their opinions would be different than an older high school student.  But in the end, school has been different since the pandemic occurred and has changed our plans for attending school.