Saved By The Bell Is Back In 2020
Bayside High is back! The NBC hit show from the late eighties into the early nineties is having a new sequel premiere in 2020. Like every show that has a reboot or sequel, some things will be similar to how they were in the past, and some things will be a lot different. Here's what we know so far.
The Cast:
Bayside High will look different, as it has been almost 30 years since we saw the Zack Morris, AC Slater, Screech Powers, Kelly Kapowski, Jessie Spano and Lisa Turtle roam the halls. What we know so far is that Elizabeth Berkley, who portrays Jessie Spano, and Mario Lopez, who portrays AC Slater, will be a part of the main cast. Berkley will be playing Jessie again obviously, and will be the mother to Bayside High student Jamie. Mario Lopez will be AC Slater, who is now a physical education teacher and coach at Bayside High. 
Out of the old main cast we also know that Mark-Paul Gosselaar will be one of four executive producers of the new reboot. Zack Morris will be returning to the show with Gosselaar portraying him again. Just like every "Saved By the Bell" fan expected, the former troube making, frequently visiting Mr. Belding's office teeneager, is now portrayed as the Governor of California who also has a son, Mac, at Bayside High. Tiffani Thiessen who plays Kelly Kapowski, is the wife of Zack Morris, meaning she is the First Lady of California as well as Mac's mother. Ed Alonzo, who plays Max, will also return as Max, who owns the go to spot in Bayside. All three will not be a part of the main cast, but rather be involved in recurring roles. 
Lark Voorhies who portrayed Lisa Turtle, is expected to make a guest appearance on the show, but is not expected to have a main or recurring role. 
Dustin Diamond, who played Screech Powers, is not expected to return in any capacity, as he has faced some legal issues and has lashed out on his former cast mates.
As for the rest of the cast, John Michael Higgins will play the new principal, Principal Toddman. Haskiri Velazquez will play Daisy, a sophomore at Bayside High. Mitchell Hoog will be playing Mac Morris, Zack and Kelly's son and an attendee at Bayside High. Belmont Cameli will be playing Jessie Spano's son, Jamie, the captain of the football team. Alycia Pascual-Pena will be portrayed as Aisha, who causes a stir when she tries to join the football team. And lastly, Josie Totah will be playing the role of Lexi, a cheerleader.
When & Where:
"The Saved By the Bell" reboot was expected to be released in the summer of 2020, however, due to the COVID-19 Pandemic, filming was put on halt from March-August. Now, the official release date is November 25, 2020. Episodes can be seen on streaming service Peacock, which is owned by NBC.
In conclusion, Bayside High will look different, but be filled with plenty of familiar faces. 
About the Writer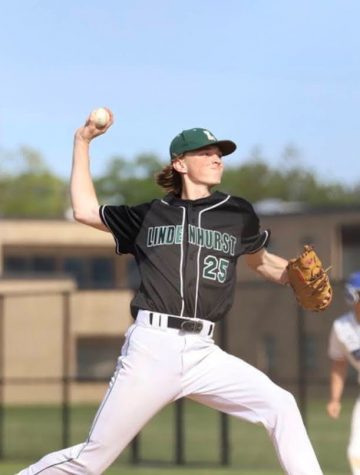 Jack Kelly, Sports Scores Editor
Jack Kelly is a Senior at LHS in his first year of writing for the Charles Street Times. Kelly spends a lot of time with friends and family and sports....