Dr. Brodie's Positivity Quotes
Positivity is defined as:
the practice of being or tendency to be positive or optimistic in attitude.
There is so much to be said about the power of positive thinking.  Some researchers claim there is a link between positivity and health, stress relief, and success.  Dr. Brodie plans to encourage this positive mental state by providing us with a daily quote loaded with optimism.  It only takes a moment to reflect on each thought, so take a chance and possibly change your mindset and your life!!!!
---
Week of Jan 4 – Jan 8
"Success is the sum of small efforts repeated day in and day out."
"Every day may not be good… but there's something good in every day."
"As you ramble on through life
Whatever be your goal
Keep your eye upon the doughnut
And not upon the hole."
"Success is not final.  Failure is not fatal.  It is the courage to continue that counts."
"Nothing is impossible. The word itself says 'I'm Possible!' "
---
Week of Jan 11 – 15
"The Pessimist Sees Difficulty In Every Opportunity. The Optimist Sees Opportunity In Every Difficulty."
"Let your unique awesomeness and positive energy inspire confidence in others."
"A truly happy person is one who can enjoy the scenery while on a detour."
"It is our attitude at the beginning of a difficult task which, more than anything else, will affect its successful outcome."
"A hero is not the one who never fails.  They are the one that gets up again and again, never losing sight of their dreams."
---
Week of Jan 19 -22
"Every great dream begins with a dreamer.  Always remember, you have within you the strength, the patience, and the passion to reach for the stars to change the world."
"Obsessed is the word the lazy use to describe dedicated."
"Winning doesn't always mean being first. Winning means you're doing better than you've done before."
"In every day, there are 1,440 minutes. That means we have 1,440 daily opportunities to make a positive impact."
---
Week of Jan 25- 29
"Positive anything is better than negative nothing."
"The difference between ordinary and extraordinary is that little extra."
"If opportunity doesn't knock, build a door."
"No exact recipe for today. Gather all available ingredients and whip yourself up something delicious."
---
Week of February 1 -5
"The most important thing is to try and inspire people so that they can be great in whatever they want to do."
"Life is like riding a bicycle. To keep your balance, you must keep moving."
---
Week of February 8 – 12
"The harder you work for something, the greater you'll feel when you achieve it."
"There are years that ask questions and years that answer."
"Don't stop when you're tired. Stop when you're done."
"Don't downgrade your dream just to fit your reality, upgrade your conviction to match your destiny."
---
Week of February 23-26
"Staying positive doesn't mean you have to be happy all the time.  It means that, even on hard days, you know that there are better ones coming."
"You're not going to enjoy every minute of the journey, but the success you'll find at the end will make it all worth it."
"You should never regret anything in life. If it's good, it's wonderful. If it's bad, it is experience."
"Be stubborn about your goals and flexible about your methods."
---
March 1st  -5th
"Hard work beats talent when talent doesn't work hard."
"Be the person who cheers on others, compliments strangers, and encourages people to believe in themselves. Kindness doesn't cost a thing"
"Life is not measured by the number of breaths you take, but by the number of moments that take your breath away."
---
March 8 – 12th
"It had long since come to my attention that people of accomplishment rarely sat back and let things happen to them. They went out and happened to things."
"The same boiling water that softens the potato hardens the egg. It's what you're made of. Not the circumstances."
"Be somebody nobody thought you could be."
"It's a good day to be proud of how far you have come."
"You must be the change you wish to see in the world"
---
March 15 – 19th
"Always remember you are an influence in somebody else's life."
---
March 22 – 26
"The only person qualified to determine your worth is you."
 "Do what you love.  Love what you do."
"You always pass failure on the way to success."
"Winning doesn't always mean being first. Winning means you're doing better than you've done before."
"Shortcuts don't always get you to your destination.  More often, they prolong your arrival."
"You can, you should, and if you're brave enough to start, you will."
"Joy is not in things; it is in us."
"Keep your face to the sunshine and you cannot see a shadow."
"It's never too late to be whoever you want to be.  I hope you live a life you're proud of, and if you're not, I hope you have the strength to start over."
---
April 12th – 16th
"No one is perfect – that's why pencils have erasers."
"Behind you, all your memories.
Before you, all your dreams.
Around you, all who love you
Within you, all you need."
"Without leaps of imagination, or dreaming, we lose the excitement of possibilities. Dreaming, after all, is a form of planning."
"The trick is to enjoy life.  Don't wish away your days waiting for better ones ahead."
"Don't cry over the past, it's gone.  Don't stress about the future, it hasn't arrived.  Live in the present and make it beautiful."
---
April 19 – 23
"There are four things in this life that will change you.  Love, music, art, and loss.  The first three will keep you wild and full of passion.  May you allow the last to make you brave."
"Positive thinking will let you do everything better than negative thinking will."
"Success is the sum of small efforts repeated day in and day out."
"Know your worth and stop giving people discounts."
"The question isn't 'who's going to let me?'; it's 'who is going to stop me?'"
"When you see something beautiful in someone, tell them.  It may take a second to say, but for them it could last a lifetime."
"The past is your lesson. The present is your gift. The future is your motivation."
"Most of the important things in the world have been accomplished by people who have kept on trying when there seemed to be no hope at all."
"Our greatest weakness lies in giving up. The most certain way to succeed is always to try just one more time."
"When everything seems to be going against you, remember that the airplane takes off against the wind, not with it."
"Every accomplishment starts with the decision to try."
"Never allow waiting to become a habit.  Live your dreams and take risks.  Life is happening now."
"Happiness is the absence of striving for happiness."
"It's not what the world holds for you, it's what you bring to it."
"Sometimes the strength within you is not a big fiery flame for all to see it is just a tiny spark that whispers ever so softly 'You got this. Keep going'"
"Do not waste time thinking about what you could have done differently. Keep your eyes on the road ahead and do it differently now."
"The gem cannot be polished without friction, nor man perfected without trials."
"If you want to be happy, you have to be happy on purpose. You can't just wait to see what kind of day you'll have. You have to decide what kind of day you'll have."
"The trick is to enjoy life, don't wish away your days waiting for better ones ahead."
"There will never be an eraser to correct the past, but there will always be a pencil to write the future."
"Helping one person might not change the world, but it could change the world for one person."
"Don't close the book when bad things happen in your life.  Just begin a new chapter."
"When your heart speaks, take good notes."
"Everything we do is practice for something greater than where we currently are. Practice only makes for improvement."
"Better to be an optimist who gets disappointed than a pessimist who has no hope."
"To accomplish great things, we must not only act, but also dream, not only plan, but also believe."
"If you want something you've never had, you must be willing to do something you've never done."
About the Contributor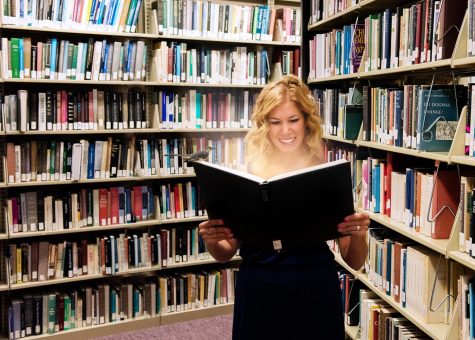 Jennifer Kelly, Advisor
Mrs. Kelly has been teaching at LHS for 21 years and this is her sixth year advising for the Charles Street Times.  She believes the CST has really grown...