Finland and Sweden No Longer Neutral?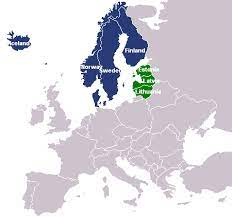 Finland and Sweden both set to apply for a membership in NATO which is quite a big move since they have been neutral countries for decades.  Finland's President Sauli Niinisto stated, "Today, we, the president and the government's foreign policy committee, have together decided that Finland … will apply for NATO membership" (CNBC). His reasoning for this is that it will maximize Finland's security from possible invasions, especially since Russia invaded Ukraine, and Finland has actually been attacked in the past. Finland's Prime Minister Sanna Marin adds, "We hope that the parliament will confirm the decision to apply for NATO membership during the coming days." (CNBC) It is an important decision for the safety of their people largely with the fact that Finland shares a border with Russia. 
The Swedish Prime Minister Magdalena Andersson mentioned that they were also applying to join NATO. Although Sweden doesn't share a border with Russia, they still are close by and share the same maritime border. Ann Linde, Sweden's foreign affairs minister, Tweeted that "Today the Swedish Social Democratic Party took a historic decision to say yes to apply for a membership in the NATO defense alliance. The Russian invasion of Ukraine has deteriorated the security situation for Sweden and Europe as a whole" (CNBC). Ann Linde's reasoning for this application is that since Russia has been targeting civilian areas in Ukraine.  
How powerful is NATO? 
NATO is considered the most powerful alliance in the world. But NATO doesn't have its own armed forces, instead it has a system where civilians and the military from all of the member states work together. 
All of the countries apart of NATO: 
Canada, Croatia, France, Germany, Greece, Hungary, Czech Republic, Denmark, Estonia, Albania, Belgium, Bulgaria, Iceland, Luxembourg, Montenegro, Netherlands, Italy, Latvia, Lithuania, North Macedonia, Norway, Poland, Slovakia, United Kingdom, Portugal, Romania, United States, Slovenia, Spain, and Turkey. 
Source:
https://www.cnbc.com/2022/05/15/finland-will-apply-for-nato-membership-president-says.html