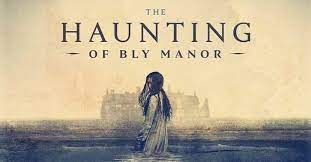 There's a beautiful Grand English manor located in London. The house has many bone thrilling secrets as watchers are eager to figure them out. The haunting of Bly Manor is a horror series on Netflix. The show was released on October 9th 2020 just in perfect timing for the spooky season. The show is a mini tv series with 9 episodes. Each episode is around 40 minutes to an hour or more.
The show is about an American Woman who takes a job caring for two orphans in London, In this beautiful manor called Bly manor. Bly manor is filled with many stories within its walls, many would just say it's haunted. The woman taking care of the kids is named Dani, played by Victoria Pedretti. Dani is a fiery character with a mind of her own and a compassionate heart. Dani gets a job to watch these 2 kids named Miles and Charlotte. Miles and Charlotte are two very strange kids, and that is noticed by Dani. You watch as the mystery starts to develop and you question if the kids are fully aware of all the things that is going on.
Dani and the children aren't the only ones on the manor. In the house there are workers, some who seem suspicious more than others, but is it just them or is there another lingering secret? The mystery and horror isn't the only plot in the show either, there is a love story that was in the making. As you watch characters fall in love, this subplot is a nice change and the moments feel like a falling breath of fresh air from the horror/mystery plot.
The show was beautifully written and was definitely an emotional rollercoaster. The ending felt so right and so wrong for many reasons, you can't help but get a bittersweet feeling from it. The narration of the show is phenomenal. It can really just bring out that wow feeling from within someone. Hearing the way it's narrated really pulls the story together and makes the show worth the watch. You yearn for different endings for the characters but at the same time you'll feel so struck with this certain feeling that you can't decipher. This show gives you such a thrill and the narration alone can really hook you in, so if you're looking for something new to watch and you are into horror and love the thrill of a mystery "The Haunting of Bly Manor" can be just the show for you.