New Kanye West Stem Players Leaked Online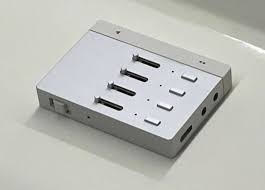 Recent media of new stem players made in partnership with Kanye West have surfaced online, with some even coming from people that work closely with Kanye and showing off new music.
The first device was made by Teenage Engineering, which makes audio related devices, and it appears to be a stem player with four different sliders that control different parts of the song. The device is packaged with a USB-C cable, likely for data transfer and powering the device. They appear to have been given to many of his friends, one of them showing the device playing "Follow God," from Kanye West's 2019 gospel album Jesus is King, with the device isolating the vocals and instrumental, even down to the drums. Another video even shows off the device with one of his upcoming songs, "Believe What I Say", which is rumored to be released as a single within the coming months.
News *

A new snippet of 'Believe What I say' has surfaced.

— West Sub Ever (@WestSubEver) March 15, 2021
YEEZY STEM PLAYER

This is a GAME CHANGER

I've used it and it's an AMAZING Gadget

For those who study the Art of Mixing and Drops, You'll Love It!!!

Would love to see @Young_Guru + @questlove use it…#ThingsAreDifferentNow pic.twitter.com/UPSA0uBKuc

— Consequence (@ItsTheCons) March 23, 2021
The second device is made by Kano, which makes small DIY computers and other devices for kids. A showcase video was leaked online of a small device with lights, playing different parts of Kanye's 2020 Single "Wash Us In The Blood", even isolating the vocals and instrumental.
News*

A new video has emerged of the Yeezy Tech x Kano Stem Player. We promise it's real this time 👍.

What do you think of the device🔥🔥❓ pic.twitter.com/jbIUkQN79R

— West Sub Ever (@WestSubEver) March 31, 2021
This isn't the only time Kano has worked with Kanye in the past though, as its Co-Founder and CEO Alex Klien being credited for writing the lyrics to "Water", another song from Jesus is King.
Not much else is known so far, but it looks like information is being leaked slow and steady, and at least one of these devices are bound to come out soon considering Kanye's other collaboration "YZY GAP" is also rumored to be coming soon.