Best Romance Books for "The Month of Love"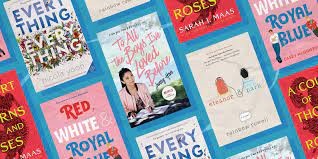 Have you been anticipating the month of love? Want to pick up some romance books to celebrate the season? Well, you're all covered! Here are some heart-warming romances to get you in that Valentine's mood!
First on the list is Red, White and Royal Blue by Casey McQuiston. It is a royal, star-crossed romance. The two main characters are Alex Claremont-Diaz, the first son of the first female president of the United States, and Prince Henry of Britain. During a royal wedding, the two of them have to pretend to be friends with each other to prevent a diplomatic crisis over if they get along with each other or whether they don't. It could potentially distract everyone from Alex's mother's election. During their forced proximity and having to pretend to get along, they develop a genuine friendship and it is up to the readers to determine whether they fall for each other or not.
Next, is Instructions for Dancing by Nicola Yoon. A stellar romance novel about a teenage girl named Evie Thomas, who no longer believes in love due to her parents failed relationship and divorce. While Evie goes out on the town, she sees a couple kiss, and is suddenly given the power to see how every relationship begins and how they end. The only downside is she cannot see her own. She believes that every great love story eventually falls apart, similar to how good things always come to an end. A while after figuring out she has these powers, a month or so following the first incident, she starts taking up dance classes at her local studio and gets paired up with the owner's grandson that is a dancer too. They go on to compete on the national level at a dance competition together, and slowly begin to fall for each other. Will Evie lead with her heart and confess, or go with her head and believe that the two of them will have an unhappy ending? Read to find out!
Lastly, is Cinderella is Dead by Kalynn Bayron. It is set universe two-hundred years after the passing of Cinderella. The main character is a queer young woman named Sophia Grimmins. In this world when teenage girls come of age, they are sent to a ball that is held annually in Cinderella's castle. The women get promised to suitors they have never met before. Sophia breaks free from the ball and goes on the run attempting to escape. While on the run, she meets another girl who seems similar to her, on the run and queer. She is a hunter. Readers follow Sophia on her trials and tribulations along with her female friend, leaving the reader wondering what they will endeavor.
In conclusion, there are a surplus of romance books right at your fingertips. They can be found at: the school library, public library, a kindle, and even local bookshops. Go and grab some of these wonderful romance books just in time for Valentine's Day!