Meaning Behind Popular Misfits Songs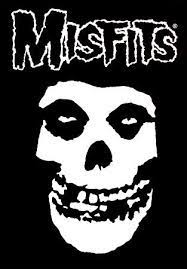 The Misfits, a horror punk rock band initially created in 1977 by Glenn Danzig and Manny Martinez, rapidly increased in popularity with its peak in the late 80s. Though the band still performs now, the members have changed throughout the years. In its current state, the band includes vocals by Glenn Danzig, Jerry Only on bass guitar, Doyle Wolfgang von Frankenstein on guitar and Dave Lombardo on drums. In this article four of the Misfit's popular songs will be discussed in relation to the meaning behind them.
"London Dungeon"
The song "London Dungeon," released on the EP 3 Hits from Hell, is actually based around a true story that happened to Glenn Danzig and former guitarist Bobby Steele while they were in London. They are said to have been waiting to see The Jam perform while a group of people came up to them and started a fight. Bobby immediately went to find the Police while Danzig defended himself. The full story can be found on Misfitscentral, but both Danzig and Bobby actually ended up spending a couple days in Brixton jail. During his time there, Danzig wrote this song which has become one of the band's most popular.
"Fiend Club"
The song  "Fiend Club," released on the album Famous Monsters, was written by Michale Graves who was the frontman for the band at its time of release. Though unlike the previous song this one does not represent a story, it references how fans of the Misfits are referred to as fiends, so all Misfits fans make up the Fiend Club.
"Saturday Night"
The song  "Saturday Night," also released on Famous Monsters and written by Michale Graves, is commonly taken literally to be about killing due to lyrics in the song such as "There's 52 ways to murder anyone, one and two are the same and they both work as well." However, the true meaning of the song as explained by Michale Graves is the representation of the metaphorical death of a relationship. 
"Don't Open Till Doomsday"
The song "Don't Open Till Doomsday," released on the album American Psycho and written by Michale Graves is commonly believed to be based upon an episode of the show The Outer Limits with the same title. The episode revolved around a mysterious box that was labeled "Don't Open Till Doomsday," which curious guests in the house it resided in would fall victim to. Hence the lyric "Destruction's not far away." This is a common occurrence where Misfits songs are directly inspired by Horror movies, thrillers, and old Sci-Fi television shows.