Hold on to your Cowboy Hat! Phoebe Bridgers' "Sidelines" Review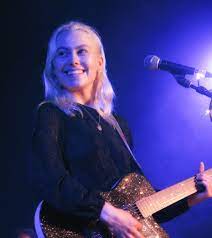 Coming two years after the success of Hulu's Normal People, the Sally Rooney cinematic universe welcomes a new book to tv adaptation. Her 2017 novel Conversations With Friends' 12-episode mini series is set to hit screens May 15th, starring Alison Oliver, Joe Alwyn, Jemima Kirke, and Sasha Lane. Many waited at the edge of their seats for the trailer to drop, but not all for the same reason. Some waited in anticipation of their favorite author's new binge-worthy hit, but many others waited with a racing heart for a sneak peak of Phoebe Bridgers' only original song of 2022.
"Sidelines" was released in companion with the show, co-written by Bridgers and her constant collaborators Marshall Vore and Ruby Rain Henley. The song comes to avid fans after what seemed to be a dry spell; Bridgers hasn't released an addition to her discography since her Grammy nominated hit album Punisher. She's filled her time both with her Reunion World Tour, and (if you can imagine it) a never-ending stream of slower, sadder versions of her already slow and sad songs.
The new single, with a black and white picture of Bridgers' grandfather on a bull at a rodeo as the cover art, features the two things one may think of when they hear Phoebe Bridgers: an impeccable soundtrack and devastating lyrics.
"And I used to think/You could hear the ocean in a seashell/What a childish thing!" The tears start pouring.
Brushing on themes of isolation, love, and dreams long past, the song leaves listeners with a terrifying fear of watching their life go by, coupled with hope; we, like Phoebe, can go back to school, die in a fire, and live on a fault line. Though it may not be her most heart-wrenching piece, "Sidelines" works to quench die-hard fans' thirst for new content, and gave many the hype they needed going into her second world tour.