Driving Home 2 U, Unpacked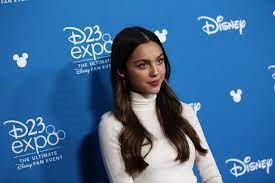 Singer Olivia Rodrigo has recently released a film called "driving home 2 u (a SOUR film). In this film, the journey to creating the "Sour" album is followed. It explores snippets of her in the studio working on songs with her producer, Dan Nigro. These snippets are placed in between each of the songs on the album that she sings. During the film, she discusses the heartbreak she faced, and what led her to compose the songs she did. Rodrigo reciprocates the feeling of being lonely, devastated, and not good enough for someone, and puts it into song form. The film is ninety minutes long, and is out on Disney + and Hulu. 
     She started out in Salt Lake City and made her way to Los Angeles throughout the film, where a majority of her album was composed. Her song "Happier" was created first, and through this song, she met her producer. She had uploaded the video online, grabbing his attention, and from there, a great song creating duo was formed. The inspiration for the creation of the album was potentially from the breakup of her and her co-star Joshua Bassett on "High School Musical: The Musical: The Show." She could not escape seeing him everyday since they worked together, therefore it was the "heartbreak that kept on giving." It can also be observed that lyrics of the iconic song "Driver's License" had been changed. In the original song shown in the film, the "blonde girl" is referred to as the "brunette girl," causing fans to wonder what the true story is. The song "brutal" had been completed right at the last minute when Olivia had decided that she had wanted another upbeat song added to the album. The first version of the song is seen as they are just messing around with guitar riffs and lyrics, and then the final version is seen, as it is similar to the original. At the end of the film, during the credits, an unreleased song never heard before is played. Fingers crossed it will be released in the near future!
      Throughout the film, Rodrigo experiences strong feelings of doubt in her music. She feels as if all of the sounds sound the same with different lyrics, but in the end, her team came to the conclusion that she was just overthinking. For Olivia, it can be tough because she had felt as if she should be topping her last song with a new one. The feeling of always one-upping yourself and being better played a significant role in her mindset. Yet she has had moments of despair in her love life that affected her mentality and moments of doubt in herself, she is working on keeping a positive mindset, and moving forward to a happier mentality, leading to happier songs.