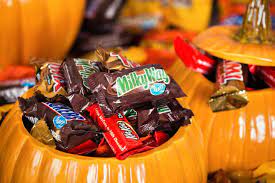 As Halloween nears, a timeless question arises, "What is the Best Halloween Candy?" Halloween is famous for its fun costumes and primarily delicious candies. To answer this question we must consider various factors, such as popularity and sales. In addition to the majority opinion. 
Halloween is the exclusive time in which candy sales are highest, causing you to ponder. "What is the best selling candy?" According to the last 16 years of statistics, the best-selling candy is none other than the Reese's cup. Reese's cups have been around since 1928, bringing in over 2 billion annually. Reese's cups are a classic and delicious way to enjoy the iconic pair of peanut butter and chocolate. Second is M&M's simple, yet delicious. Third is Hot tamales, hot tamales are a widely popular choice among many. Lastly is Skittles at number 4 and Sour Patch Kids at number 5, my personal favorite.
When 25 high school students were surveyed it was evident that Twix is a crowd favorite, In addition to KitKats and Reese's. This contradicts candy sales and statistics, as neither KitKats nor Twix made it into the top 5. The runners-up consisted of M&Ms, Hershey's, Nerds, Skittles, Life Saver Gummies and Sour patch kids. All things considered, what is your favorite candy? Has your opinion changed?