The Death of the Superhero Movie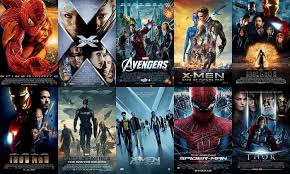 Hang on for a minute...we're trying to find some more stories you might like.
How many movies have you seen this year? Three? Five? Chances are one of them was a superhero movie, whether it be Justice League, Spiderman Homecoming, Thor Ragnarok etc.  Many industry analysts say that the genre is dying, which makes no sense because the box office for these movies keeps climbing. For example look at the Thor movies.  Thor made 450 million and Thor Ragnarok has made 800 million so far and it's still climbing as of the time of writing. However, many people are convinced the genre is just a fad that is going to die. Even Steven Spielberg said, "We were around when the Western died and there will be a time when the superhero movie goes the way of the Western".
Why are some people thinking this way? Well it all stems from the fact that less people are going to the movies in general. This may shock you or not surprise you at all. The studios and theaters think that it's Rotten Tomatoes or the fact that it's just easier to watch a movie at home, but let's face it, it is just the fact that going to the movies is just too expensive. The average cost of an IMAX ticket in New York City is $21.50 which is just ridiculous. (just in case you don't know IMAX is just a bigger screen).
So people are just seeing less movies in general but why are people saying superhero movies are going to die?  That reason is fatigue. Many people say superhero fatigue is a big fear, but it seems to be  franchise fatigue more than superhero fatigue. The way you can tell is simply to look at what is bombing or under performing at the box office. Transformers The Last Knight bombed domestically and internationally.  Pirates of the Caribbean Dead Men Tell No Tales under performed and Baywatch was one of the few movies The Rock starred in that actually bombed. All of these were based on existing properties that people just did not care about. Nevertheless, the movies that made money were Baby Driver, Dunkirk and Wonder Woman. Notice anything about these? They were all original.
How does this affect superhero movies?  Well it just shows that people want something that's different every time and most superhero movies are different. You have comedies in Deadpool and you dramas with Logan, you have your intense high stakes action and crime film in the The Dark Knight and you have your heist film with Ant-Man. So when you take all this into consideration it's kinda obvious that so long as superheros remain interesting they will keep making money or Justice League just tanked the genre.