The Professor: Remembering Neil Peart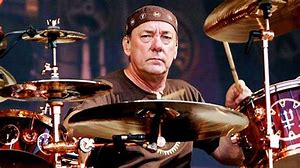 On January 10, 2020, fans of the Canadian progressive rock band, Rush, were saddened to hear of the unfortunate passing of Neil Peart, the drummer of Rush. Moreover than just fans, but the whole progressive rock scene has expressed their condolences to one of the most talented drummers in all of music history. In honor of Neil Peart's life and legacy, we will illustrate the musician's life, career, and contributions to progressive rock history.
Neil Peart was born on September 12, 1952, in Ontario, Canada. His parents, Glen Peart and Betty Peart raised Neil in the small town of St. Catherine's, Ontario. Peart's father, Glen, was a farm equipment salesman who managed a small parts store in rural Ontario. At a young age, Peart was an avid reader and consumed whatever books he could get his hands on. According to his mother, "He just read everything. He just read everything there was to read." Peart's early exposure to literature contributed to his lyrical style. This would ultimately influence his style of writing, encompassing fantasy, science fiction and philosophy as themes. Among reading as a hobby, Peart became fascinated with music and drumming at a young age as well. In 1966, Peart's parents bought him a drum kit for his fourteenth birthday. It was then that Peart began to take drum lessons from Penisula Conservatory of Music. Peart's first performance was at the St. John's Anglican Church Hall Christmas pageant in Port Dalhousie. Peart joined his first band, The Eternal Triangle with his friends at his local high school, Lakeport High School.
In Peart's late teenage years, as an attempt to gain success, Peart would continue to play in various local bands in basements, church halls, high schools, skating rinks and recreation rooms across Southern Ontario. In 1970 at the age of 18, Peart would travel to London in a bid to hopefully garner success in Great Britain. While in London, Peart would play with multiple local bands but still struggled to gain an image for himself. Disillusioned by multiple attempts for success, Peart would return to Canada to work at his father's tractor parts shop.
Neil Peart, now back in Canada, found himself working behind the parts counter of his father's tractor parts shop. Little did Peart know, he would finally find his moment of fame with the band Rush, as he was asked to audition for Geddy Lee and Alex Lifeson of the band. According to Geddy Lee, bassist, and singer of Rush, "I was blown away. As soon as he [Neil Peart] started playing." Alex Lifeson, guitarist of Rush said, "He played like Keith Moon and John Bonham at the same time." From then on, Neil Peart was a drumming icon in the music industry. After joining the band, Peart became the prominent songwriter for Rush, famous for his work on Fly by Night, 2112, Hemispheres and Clockwork Angels, just to name a few. Neil Peart was renowned for his unique drumming style and timing sequence, setting a precedent in the wake of future musicians. Peart was awarded Best Rock Drummer nine times by Modern Drummer magazine, awarded Drummer of the Year by DRUM! Magazine four times just to name a whole slew of his accomplishments. By far the greatest award granted to Neil Peart was the Order of Canada, the second-highest order of merit awarded by the Governor-General of Canada on behalf of the Queen of Canada, Queen Elizabeth II.
Neil Peart sadly passed away after a battle with brain cancer on January 7, 2020. His passing was only made public on January 10, 2020. Neil Peart will be remembered as one of the greatest and most influential drummers and songwriters in the neo-progressive and progressive rock scene for his talented drumming and songwriting capabilities.