Top 5 Cover Songs of All Time
Cover songs are always great to listen to change things up. Sports Editor Anthony Colavito breaks down some of the greatest cover songs out there.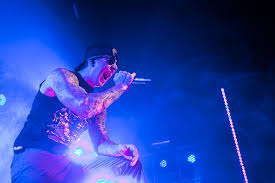 Every artist or band has hit a point in their career when they wanted to change things up. Most of the time when they want change, they make a change in their sound, in other words they evolve. But sometimes they want to take a crack at something completely different. A band or an artist will take a shot a song that has already been written and created by another artist. This is known as a cover song. Some cover songs are flat out awful, take Lana Del Ray's cover of Sublime's "Doin Time" for example. It was terrible. But sometimes, artists or bands hit the nail right on the head, and could make a version of the song that is better than the original. To make it harder, we have decided to rank the top five cover songs. This is based on what I have heard, there are definitely great cover songs out there, and you could let them be known by leaving a comment on this post. Therefore, we start with number five. Some honorable mentions were "Billie Jean" by Weezer (more famously performed by Michael Jackson), "Smooth Criminal" by Alien Ant Farm (more famously performed by Michael Jackson), and "We Rock" by Metal Allegiance (more famously performed by Dio). 
5. Bulls on Parade by Denzel Curry (more famously performed by Rage Against the Machine)
Starting the list off with something pretty unknown. Rapper Denzel Curry did a cover of metal legends Rage Against the Machine's famous song "Bulls on Parade". The original song was released back in 1996, and it talks about the US military and their aggressive behavior. One of the messages in the song is that we should not be funding war but we should be funding basic needs of families in need. This song is a metal classic, and Rage gets massive credit for that. But Denzel Curry put his own spin on it that makes it unique. He sings all of the original lyrics to the song which he honestly does a great job of, and gives it that live feel. But instead of a Tom Morello guitar solo, Curry freestyles over that part of the song. He raps about the military like the original song and he implements some of the issues that were current with the times. Curry even went ahead and threw shade at President Donald Trump stating, "Donald Trump, Donald Duck, what the f*** is the difference". Though the instrumentals aren't all there, it doesn't take away from the fact that Denzel Curry did a fantastic job on this cover. 
4. Bad Company by Five Finger Death Punch (more famously performed by Bad Company)
For those unfamiliar, Bad Company was an English super-group formed in the 1970's. Their lineup consisted of the likes of Mick Ralphs, Paul Rodgers, and Brian Howe over the years. They wrote a song in 1974 entitled "Bad Company" (yes they wrote a song named after their band name). The original song is decent. It is your basic rock song from the 70's, and Five Finger Death Punch brought new life to it. They took the original song and made it metal, therefore, it is better. All kidding aside, this song is better overall. The tempo and energy pick up a lot more and a lot better than the original song before slowing back down. FFDP changed a few of the lyrics to make it their own, and it worked out for the better. The song was released on the album War is the Answer. FFDP and their metal cover of "Bad Company" helped them land at number four on this list. 
3. Walk by Avenged Sevenfold (more famously performed by Pantera)
Pantera are considered to be heavy metal gods by millions of fans. Whether they like Vinnie Paul's drum patterns, Phil Anselmo's vocals, or they may just like the legendary Dimebag Darrell as a guitarist. One of their most well known songs is "Walk", which came off of the album Vulgar Display of Power. This song is a metal anthem. Before metal concerts, this song will be played before the band hits the stage to get the crowd going. Whether it is the bendy riff that Dimebag plays throughout, or it might be the solo that hooks somebody onto this song. So if you get hooked to this song, thank the madman that was known as Dimebag Darrell. Modern metal giants Avenged Sevenfold covered this song in 2006 and did a fantastic job. They pretty much took the original song and made it sound like it came out in 2006. M. Shadows makes the lyrics his own with his raspy vocal style and Zacky Vengeance shredded the daylights out of the guitar during the solo. This however, comes nowhere close to the original version. The only way you could come close to the original Pantera version is if you were Metallica or Black Sabbath in their primes performing this song. 
2. Africa by Weezer (more famously performed by Toto)
Once upon a time in the 1980's there was a band by the name of Toto. Toto formed in Los Angeles in 1977, and they weren't really much for a while. Enter, "Africa". First off, "Africa" is regarded by some to be one of the greatest songs of all time. Everything about this song is catchy. From the drum pattern, to the intro, and who can resist singing the chorus at the top of their lungs? Toto did all the right things with "Africa" and it made them international songs. Weezer then went ahead and popularized the song once again in 2018 by releasing it on their album Weezer (Teal Album). For a little while, Weezer made some people believe that they themselves wrote the song. That is because Weezer did a great job of making it sound like a Weezer song but at the same time keeping it original. Instead of a flute solo like the original version, they used a keyboard solo. It sounded like it would come from the 1982 version of the song, and it is perfect. 
1. The Man Who Sold the World by Nirvana (more famously performed by David Bowie)
If there is one band who knows how to break the rules, it was Nirvana. Nirvana were playing a set for MTV Unplugged, which is a show that invites musical talent on the show to play some of their most well known songs in front of an audience. Of course in the most Nirvana and Kurt Cobain way possible, this didn't happen. Instead of playing their most well known songs, they went ahead and played an acoustic set which did not include "Smells Like Teen Spirit". Of course this upset many fans but it was definitely for the better, as it was one of the most played songs at the time. Instead, we received a set from Nirvana which consisted of some of their less known songs and a few covers. There are plenty of good songs from this set, but the one that sticks out the most is the cover of David Bowie's "The Man Who Sold the World". This cover is number one on this list for a reason. For some reason, that whammy used in the beginning of the song is irresistible. The song sounds a lot better in the fact that the man singing it doesn't sound like a robot (no offense at all  to David Bowie. May he rest in peace). But Cobain's voice is a better fit for this song. It also fit perfectly into Nirvana's set which consisted of acoustic takes of their songs "Come as You Are", "About a Girl", and "Where Did You Sleep Last Night". This is truly the greatest episode of MTV Unplugged and the cover of the David Bowie classic helped in that manner.