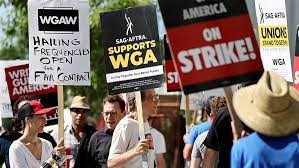 Beginning in the Spring of this year the Writers Guild of America has been on strike, leading to multiple shows being delayed and canceled. One of the biggest reasons for this strike is to express a rejection to the idea of bringing Artificial Intelligence into the writer's room.
Though it hasn't happened in more than a decade, this isn't the first time the Writers Guild of America has gone on strike. Between 2007 and 2008 there was a writers' strike that left a huge and lasting impact on the way television ran. In avoidance of the strike, a well-known TV network called TLC began introducing more reality TV, not requiring writing. On the contrary, many scripted shows imploded, either rushing to an ending or trying to go on without writers. The latter worked out extremely poorly for shows such as Family Guy, resulting in low-quality episodes with embarrassingly bad jokes.
In comparison to TV shows, movies weren't nearly as affected. Despite this, the movies that were impacted took a huge hit. A prime example of this is "Transformers," a movie that started shooting with a four-page script due to the writers strike. Another movie that had a similar situation occur was "Quantum of Solace," which also started filming with an insufficient script. Consequently, the actor playing James Bond, Daniel Craig, was required to improvise lines that he thought his character would say.
As a result of the previously mentioned embarrassments, network television and large companies started to realize how important writers are and catered to their demands. After this point, the 2007-2008 strike was over.
In the current strike, writers are now demanding increased pay, greater residuals, staffing requirements, shorter exclusivity deals, and assurance on AI. Critics of the strike may argue that artificial intelligence creating scripts rather than writers will increase originality. Despite this view, many others believe that in general writers have been putting out high-quality work. But just like in 2007, shows like "Stranger Things" are stopping in their tracks until the demands of the writers are met. All writers, no matter what, should be able to have the assurance that their career will remain sustainable.