Day of Silence/ Night of Noise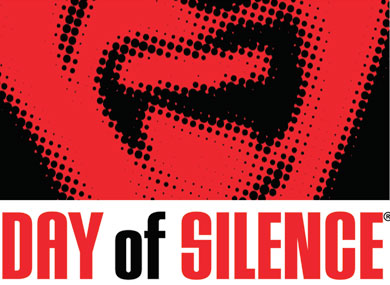 In case anyone doesn't know, LGBT is an acronym for Lesbian, Gay, Bisexual, and Transgender, but the acronym is treated as an "umbrella term" for all those who don't identify as cisgender and heterosexual. If you're a part of this community, you might know about the Day of Silence and the Night of Noise. These events are celebrated every year on the third Friday of every month.
The first event, the Day of Silence, symbolically represents the silencing of LGBT students. This event first took place in 1996 and was organized by students at the University of Virginia in attempt to make the LGBT community more visible. The next year, 1997, the Day of Silence went national as almost 100 colleges and universities took part in it. Since then, over 10,000 participants of varying ages have registered to participate with GLSEN (Gay, Lesbian, & Straight Education Network) each year, which included students from every U.S. state as well as some students from other countries. This year, the Day of Silence will take place on April 27, 2018. You can participate in the event by taking a vow of silence on this day in order to show respect to those who are silenced everyday because of harassment or bullying. Lindenhurst High School's GSA (Gay Straight Alliance) is encouraging students to participate; however, if you do plan to take a vow of silence on this day, try to let your teachers and some of your friends know ahead of time.
The Night of Noise also takes place on the third Friday of April every year subsequently to the Day of Silence. The Night of Noise encourages promotion of the LGBT community and helping silenced members of the community to have a voice. The objective of this event is to "break the wall of hate." Thus, a popular activity for LGBT youth to take part in on this night is breaking down a literal wall of hate. LGBT centers across the U.S. host parties or groups on this night in which everyone takes turns vandalizing a brick wall with hateful words they have been called or heard others been called. Then, they take turns destroying the wall until it's broken. This helps apprehensive teens ignore hate and accept themselves for who they are, as well as show closeted teens that they won't be silenced forever.
Are you interested in taking part in either of these events? You can talk to Mr. Ehrhardt (the GSA club advisor) or Anthony Gorman (the GSA club president) for more information on how to get involved and help us break the wall of hate!