Macy's Thanksgiving Parade, 2018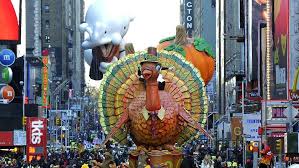 On November 22nd, 2018, the 92nd annual Thanksgiving Day Parade took place in the city. The celebration started nice and early at 9:00 am. People all around the world got together and watched the event on their TV screens. Music, food, and oversized balloons were present all throughout the show. It went down Central Park, to places like 59th Street, 6th Avenue, 34th Street and more. The parade doesn't miss a beat, either. The show racked up more than 50 million television viewers worldwide.
The parade actually started in Newark, New Jersey, by a man named Louis Bamberger. His store was moved to New York by Macy's. The year was 1924, and the parade has been going on ever since. It has been nationally televised on NBC since 1952. The parade had received so much success on its first time out that they decided to make it an annual event. From there on, the parade has had a huge impact on the Thanksgiving culture. (info from wikipedia)
The parade included performances from Bad Bunny, John Legend, Ella Mai, Rita Ora, and more. Not only were the stars top notch this year, but so were the balloons. There was the addition of "Goku" from the anime series Dragon Ball Z and the new installment, Dragon Ball Super: Broly. This is anything but a minor detail seeing as it was the first manga character to ever appear in a Thanksgiving Day Parade. History continues to be made. This was a big step in the right direction for the parade. This increases the viewership even more by giving the anime community some representation. It also helps keep the parade festivities fresh. It's a win-win.
There were other great balloons as well. Characters such as Spider-Man, Pikachu, Papa Smurf, and of course Mickey Mouse. Year after year the parade never disappoints. Many kids were in attendance and got to experience the magic all happen at once. Macy's continues to pass on the tradition of holiday spirit.