The Tragedy of Henrik Lundqvist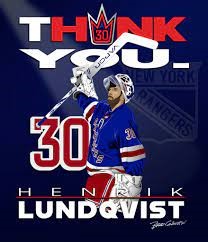 Henrick Lundquvist was a Swedish goaltender for the New York Rangers. This past year he had a tragic retirement playing for the NHL due to heart surgery. Henrick Lundquvist played 15 years for the Rangers. Before that, he played for Frölunda HC in Swedish Elitserien. He was known as "The King" due to his commitment, dedication and passion for the sport. Even without winning the Stanley Cup, he is known as one of the best goalie in hockey history. 
This year Henrick went through a tragic ending to his NHL career. He was signed to the Capitals for one year, hoping to win the cup he deserved. Unfortunately before he got to play, Henrik went had to have open heart surgery.  Henrik sat down for an interview with a former teammate for a three part interview and stated "For a few months, we'd been doing some testing on my heart," Lundqvist said. "I've been aware of a heart condition for 15 years. I had a leaky valve and at some point, you have to get it fixed. Over the course of a few months, things changed. The leak got worse and my aorta started to get too big and the pressure in the heart was too high." The surgery ended up being for an aortic valve replacement, aortic root and ascending aortic replacement. As many NHL fans were shocked and heartbroken to hear this news, Henrik left the ice with 887 GP, .918 SV% and a GAA of 2.43 in his entire career and will forever be known as one of the best and memorable players in the NHL. 
Henrik was very open about his surgery and would update fans about how his surgery was going. The Capitals found another veteran willing to come and give it a shot, signing former Ottawa Senators starter Craig Anderson. The Rangers goalies are Igor Shesterkin and Alexandar Georgiev. Two months after Lundqvist's surgery, he started to hit the ice again. Henrik is living in New York City with his wife and his two kids, Charlise and Juli. Although his career has ended, his legacy will forever live on. 
Source: https://www.nhl.com/player/henrik-lundqvist-8468685