Formula 1 United States Grand Prix Report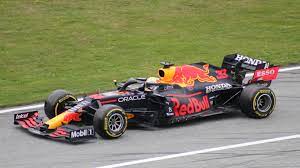 The Championship Fight
The 2021 United States Grand Prix was an interesting and exciting event. The winner of the race was Max Verstappen, driving for Red Bull. The win didn't come easy, however, with Mercedes' Lewis Hamilton just over a second behind. This win for Max Verstappen means that his lead in the championship has now increased to 12 points. There are now four races left this season, and the championship fight is still as intense as it started.
Standout Performances
There were multiple standout performances from drivers during the United States GP, one of them being an excellent drive from Sergio Perez. He is currently the second driver for Red Bull. His result of third puts him back to fourth in the championship, one point ahead of Lando Norris. During the race, he had suffered from dehydration because his drinking system wasn't working. Despite that, he was still able to hold off Charles Leclerc for third position in the race.
Another great drive came from Aston Martin's Sebastian Vettel, who finished in tenth after starting in eighteenth due to a grid penalty for exceeding the limit of internal combustion engines allowed to be used during the season. He was sitting behind Kimi Raikkonen for a portion of time during the race, but eventually Kimi spun and Sebastian was able to take tenth place. This tenth place means Vettel gains one point in the championship from this grand prix.
The race that Charles Leclerc was able to perform for Ferrari is also noteworthy. During the race, he managed to finish in fourth, giving him twelve points in the championship. These points are especially important for McLaren and Ferrari because they have an intense fight for third in the constructors' championship. Leclerc was quick in qualifying and his position was raised for the race due to the grid penalty awarded to Valtteri Bottas. He was quick in the race and didn't show any signs of being overtaken.
Less Than Ideal Results
A few drivers were unable to have the results they would have hoped for. Fernando Alonso, Esteban Ocon, and Pierre Gasly all had to retire with reliability issues. With Fernando and Esteban both retiring, Alpine scored no points in the grand prix. This is crucial for Alpine because they are fighting for fifth in the constructors' championship with Alpha Tauri. Alpha Tauri did manage to score two points with Yuki Tsunoda finishing ninth.
Throughout the race, Alfa Romeo were doing very well, running tenth and eleventh at some points. Eventually, Sebastian Vettel was able to overtake Antonio Giovinazzi and later Kimi Raikkonen after Kimi had his spin. Giovinazzi finished in eleventh place, just outside the points. Meanwhile Kimi finished thirteenth because of his mistake. For Alfa Romeo, it's a case of what could have been.
Nikita Mazepin had the worst performance overall throughout the race. The Haas is the slowest car on the grid; he was eventually running over a minute behind his teammate Mick Schumacher. He finished seventeenth out of seventeen finishers, 2 laps down from race winner Max Verstappen. Mick had also finished 2 laps down from Max, however in the race it was made clear that he was performing much better than Mazepin.
The Martin Brundle Incident
Martin Brundle, returning to commentary, had done a grid walk during the race where he attempted to talk to as many people as he could. During the grid walk, he encountered rapper Megan Thee Stallion. She didn't seem upset to talk to him, but a bodyguard pushed him back. Eventually, Martin was able to ask if she could do a freestyle rap for him. She replied, "I have no rap today." Shortly after, a man told Brundle that he couldn't do that. Martin replied, "I can do that because I did."