5 Books You Need to Read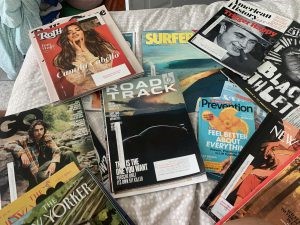 Reading is a great way to get your mind off of things. It helps entertain you when you find their is nothing else to do and it's fun, which is a plus. Reading may seem boring or not interesting, but if you want to engulf yourself into another world, then perhaps pick up a book that calls out to you and it may help with your troubles. There is a possibility that reading still bores you, but there are studies explaining that reading can help people get through hard times in their life. 
According to research, reading is a type of meditation, which helps bring a feeling of relaxation and inner calm. Most readers are known to sleep easier, relieve stress, and lower the rate of their depression than non-readers. It can be a huge benefit to your mental health. So with that being said, here is a list of a few book suggestions that you may want to consider reading:
1.Tuesdays with Morrie by Mitch Albom
Morrie is an extremely lovable college professor who is in his late sixties and finds out that he is dying. The story of his last few weeks on earth is told by Mitch, one of Morrie's former students, who happens to bump into him during his final days. The message behind the book is forgiveness. Morrie helps teach the author about forgiveness, not just for himself but for others. We may regret the things we did in the past, but not everything is within our control. Not letting go about it won't change anything, but a better outlook for the future might.
2.Have a Little Faith by Mitch Albom
As America continues to struggle, people tend to turn to their religious beliefs. Albom and two other men explore issues that most individuals are facing. Such as, how to endure when difficult things happen; what heaven is; intermarriage; forgiveness; doubting God; and the importance of faith in trying times.
3.The Hate you Give by Angie Thomas
Sixteen year old Starr Carter moves between two worlds: the poor neighborhood where she lives and the fancy suburban prep school she attends. The uneasy balance between these worlds is shattered when Starr witnesses the fatal shooting of her childhood best friend Khalil at the hands of a police officer. Ultimately, the book emphasizes the need to speak up about injustice. That's a message that will resonate with all young people concerned with fairness, and Starr's experience will speak to readers who know Starr's life like their own and provide perspective for others.
4.The Outsiders by S.E. Hinton
This novel tells the story of Ponyboy Curtis and his struggles with right and wrong in a society in which he believes that he is an outsider in. The moral that is being expressed is to never be ashamed of who you are. The biggest lesson being taught throughout the book is that even though we all come from different worlds, at the end of the day, we all witness the same. 
5.Wonder by R.J. Palacio
Wonder is a powerful story of a 10-year-old boy named August Pullman, who has a facial anomaly. The author delivered a powerful message about the importance of kindness, tolerance, and acceptance.