Holiday Treats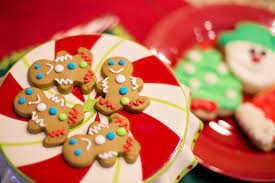 Now that the holiday season is upon us, it is officially time to start your shopping and baking with family and friends. What should you bake? Well, here is a list of popular and unique baked goods to bring to any holiday event.
Melted Snowman Sugar Cookies
These winter sugar cookies are both festive and delicious for the winter time! They are full of sugar delight with marshmallows, icing, and sprinkles. If you have a big sweet tooth, these are the perfect cookies for you.
You can find instructions on how to properly make these cookies by clicking on the following link: https://www.bettycrocker.com/recipes/melted-snowman-sugar-cookies/91c4a274-78a1-4cba-b890-52563d6cd670
This recipe's ingredients are:
1 pouch (17.5 oz) Betty Crocker™ Sugar Cookie Mix
Butter and egg called for on cookie mix pouch
1 pouch each Betty Crocker™ Cookie Icing in white, red, blue, and green
12 large marshmallows
1 tube Betty Crocker™ black Decorating Gel
1 bottle Betty Crocker™ Chocolate Sprinkles
1 pouch Betty Crocker™ Candy Shop decors rainbow chips
Star Of David Chocolate Cookies
These Hanukkah cookies only take 8-10 minutes to bake! If you need to bake something quickly for a Hanukkah event, these are the perfect treats to bring. They are said to be "sweet and buttery" along with "sure to become a holiday favorite".
To make these cookies, you can find the quick steps by clicking on the following link: https://www.verybestbaking.com/toll-house/recipes/star-david-chocolate-cookies/
The recipe's ingredients are:
2 cups all-purpose flour
½ cup NESTLE TOLL HOUSE Baking Cocoa
¼ teaspoon salt
1 cup (2 sticks) butter or margarine, softened
1 cup powdered sugar
1 teaspoon vanilla extract
1 package (16 ounces) prepared vanilla frosting
Gingerbread Reindeer
This classic Christmas treat is something you have to make this holiday season. These gingerbread will make all the people at your Christmas party fascinated from their decoration as reindeers and their taste.
For the instructions on how to make these adorable gingerbread reindeer heads, click on this link: https://www.foodnetwork.com/recipes/food-network-kitchen/gingerbread-reindeer-4480817
This recipe's ingredients are:
2 cups all-purpose flour, plus more for dusting
1 tablespoon ground ginger
1 teaspoon ground cinnamon
½ teaspoon baking soda
¼ teaspoon ground allspice
¼ teaspoon freshly grated nutmeg
¼ teaspoon baking powder
¼ teaspoon fine salt
½ cup granulated sugar
½ stick (4 tablespoons) unsalted butter, cut into 1-inch pieces, at room temperature
¼ cup molasses
1 large egg
One 1-pound box confectioners' sugar
5 tablespoons meringue powder
Black gel food coloring
Brown gel food coloring
18 red cinnamon candies
The winter time would simply not be the same without some tasty cookies and a glass of milk. Baking is a time where family and friends can come together, have fun, and eat some appetizing treats. These recipes will for sure put you in the winter state of mind. Happy Holidays!